Estimated read time: 2-3 minutes
This archived news story is available only for your personal, non-commercial use. Information in the story may be outdated or superseded by additional information. Reading or replaying the story in its archived form does not constitute a republication of the story.
Keith McCord reportingWhen the stock market opens tomorrow morning, a bunch of students from Salt Lake will be paying close attention. Two groups of students are going to compete against each other in a stock-picking contest. At the end of January, the team with the most valuable portfolio wins.
There's a twist here, though. One team is made up of eight members of the Westminster College honors program. They study everything financial. Their opponents are 19 seventh graders from Rowland Hall St. Mark's Middle School.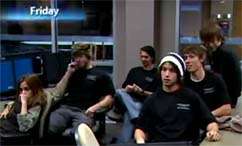 It's been a wild month or so for the U.S. stock market. The various indexes have been up and down from one day to the next. And that's of particular interest for the two very different groups of students-- honors students from Westminster and the youngsters from Rowland Hall St. Mark's.
In an effort to generate interest and understanding of how the stock market works, Westminster decided to host an educational competition.
One of the honors students, John Cook, said, "We're using hypothetical money, one million dollars of it. Then we combine the seven Westminster students that get to compete against a class of seventh graders."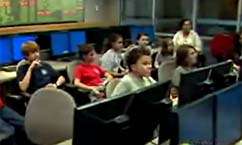 For the next two months, each team will buy and sell various stocks, hoping to make that hypothetical million bucks worth even more. For the college students, it's a chance to hone their skills and provide some guidance to the middle school kids.
Another honors student, Paula Porter, explained, "Pick things not at random. To think about the stocks they are investing in, and why they are picking those stocks so they don't crash and burn and not know why."
Intimidated by the big kids? Not at all. The Rowland Hall students come into this competition sounding like experienced traders.
Seventh grader Ariel Feola said, "Some of the stocks are going up because a lot of people are buying into them, and that's raising the price of the stock. The stock is doing better."
Blake Schott, also in seventh grade, said, "If less people are buying it, that means the stock will go down, so it will cost less."
Each team will be able to track its trades online and in real time, so it'll know which stocks hit and which ones miss.
Rowland Hall St. Mark's Principal Stephen Bennhoff said, "I'm hoping they walk away with the real world idea of macroeconomics, how major companies come and go, how stocks go up and down, how it's not guaranteed."
And as with any competition, there's always a bit of trash talk.
Feola predicted, "We're going to cream them really bad!"
The losing team will buy pizza for the winners. We assume they'll buy the pizza from a company that's performing well on the Dow!
×
Most recent Utah stories