Estimated read time: 2-3 minutes
This archived news story is available only for your personal, non-commercial use. Information in the story may be outdated or superseded by additional information. Reading or replaying the story in its archived form does not constitute a republication of the story.
Ed Yeates reporting Scientists and students are paying tribute to Barney Clark who, on this night 25 years ago, was about to be implanted with the world's first permanent artificial heart. They're meeting through tomorrow at the University of Utah for a two-day commemorative symposium.
Twenty-five years ago tonight, a cafeteria in an older wing of the School of Medicine was partially converted into a press room for a large gathering of reporters from around the world.
Hours later on Dec. 1, a surgical team had removed 61-year-old Barney Clark's failing natural heart and replaced it permanently with a Utah-made, total artificial heart called the Jarvik Seven. It kept him alive for more than three months.
Now 25 years later, this is what has evolved: the modified CardioWest total artificial heart. It has the same pulsating design but is 30 percent smaller, and it pumps a lot of blood.
As of this day, it's keeping 25 patients alive in Europe and five alive in this country--with more to come, including soon-to-be patients at the Intermountain Medical Center.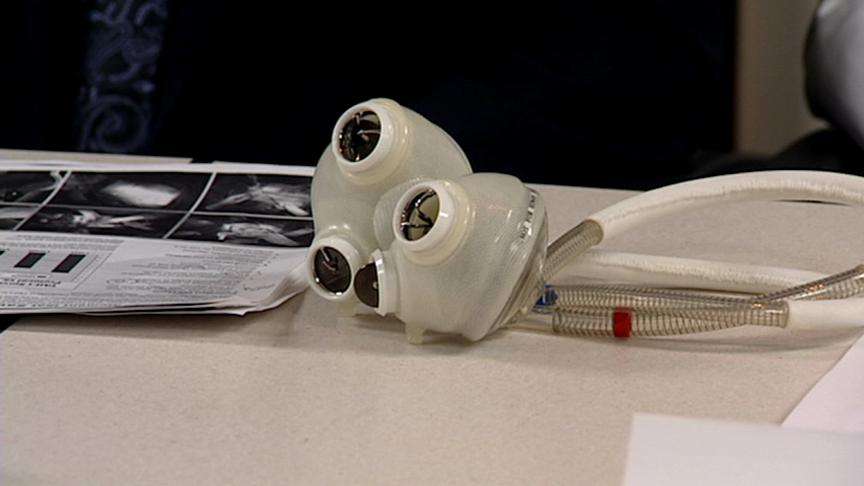 The difference? This heart is not a permanent implant, but only a temporary holdover while patients wait for real heart transplants. "And the reason is that's what it's approved for right now in the U.S. Theoretically, there's no reason it couldn't be used for long term support," Dr. Jack Copeland, of CardioWest, said.
The data for extended use looks good in Europe, where implanted patients now do all kinds of things. Patients leave the hospital and go home because they have pull-around external units that drive the hearts
Copeland says long-term, even permanent implants will happen sooner abroad than in this country. "We're all frustrated at the slow pace, but it's a pace that is imposed upon us by our society, by our regulatory forces," Copeland explained.
For long-term or permanent implants, CardioWest hopes to get these external, portable units down to belt size, weighing only about six pounds.
Since that historic implant 25 years ago, 198 patients were implanted with that original Jarvik Seven heart. It's been followed now by another 497 with the newer, evolved CardioWest model.
×
Related links
Most recent Utah stories