Estimated read time: 3-4 minutes
This archived news story is available only for your personal, non-commercial use. Information in the story may be outdated or superseded by additional information. Reading or replaying the story in its archived form does not constitute a republication of the story.
SALT LAKE CITY — The Big One. From time to time, the conversation turns to the possibility of a very large earthquake right here in Salt Lake City. Newcomers from California may find that the topic of earthquakes can provide a handy segue to help break the ice when meeting folks from Utah. People from out of state are often surprised to learn that there are any earthquakes at all here in Utah (most people think of California when they think of earthquakes). So let us take a walk down history lane to review the 5 biggest shakers to hit Utah.
1. The Sevier Valley Earthquake, September 29 and October 1, 1921.
The shocks were of magnitude 5 and 6, causing $100,000 in damage. Large rock falls around the Sevier Valley were recorded around the time of the quake as well as significant structural damage in the towns of Elsinore, Monroe, and Richfield. Aftershocks resulting from the earthquake continued well into December.
2. Cache Valley Earthquake, August 30, 1962.
This quake was felt in Utah, Idaho and Wyoming and registered at 5.5 on the Richter Scale according to measurements by the University of Utah. Despite the widespread reports of damage, most damage was considered superficial at first. There was only one report of an injury where a girl had cut her foot from a broken bottle that fell during the quake. It took several days for the damage to be be fully assessed with a total estimated to be at least $1 million.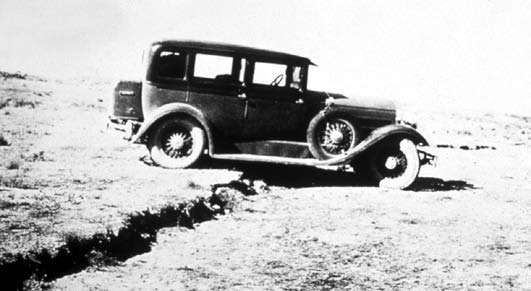 3. Richfield Earthquake, November 13, 1901.This was a magnitude 6 quake in a sparsely populated area. Though some damage was reported, there were few injuries and little damage due to the paucity of human settlements here. Newspaper reports indicate that this quake was felt over much of the state and some people were, in a word, terrified. Women ran into the streets in their night robes and men displayed clear signs of fear. The quake was reported to be 1-3 minutes long depending the location of the report.
4. Hansel Valley Earthquake, March 12, 1934.
This was a magnitude 6.6 earthquake in a sparsely populated area. What makes this quake so significant? It affected 169 square miles of land for one. Second, at least one aftershock measured 6 or greater in magnitude and some areas of land sank about 15 inches or so. There wasn't very much structural damage beyond a few collapsed chimneys, some ruffled feathers and a few palpitations, though two people were reported to have died in the quake.
5. The big one (that has yet to strike).According to Professor Bart Kowallis of the Department of Geological Sciences at Brigham Young University, there are 10 fault segments running along the Wasatch Fault. Each fault segment has been trenched and dated with Carbon-14 analysis to reveal 3-4 events on each segment. Surveys of each segment indicate one big earthquake about every 500-2000 years.
Analysis of all fault segments running through the Wasatch Front suggests the chance of a major earthquake event on any fault to be one every 200 years on average. Almost all of the segments of the faults have had a major earthquake within the last 500 years. There are two exceptions: the Salt Lake segment (1000 years ago) and the Brigham City segment (over 2000 years ago). To put this in perspective, since 1971, there have been 7 major earthquakes along the San Andreas Fault in California. Perhaps Salt Lake Valley is possibly overdue for a quake after all.
For now, Salt Lake Valley residents can rest a bit easier about earthquakes. Kowallis says, "We shouldn't lose sleep at night over having an earthquake in the Wasatch Front. We should more be concerned about preparing our buildings for earthquakes. Besides, a flood is much more likely to happen than an earthquake."
Scott C. Dunn is a professional writer and Information Technology worker in the Salt Lake City area.
×
Related links
Related stories
Most recent Utah stories