Estimated read time: 2-3 minutes
This archived news story is available only for your personal, non-commercial use. Information in the story may be outdated or superseded by additional information. Reading or replaying the story in its archived form does not constitute a republication of the story.
Jed Boal reporting Riders on the Utah Transit Authority will pay more starting in January, and they'll see another fare hike a year later.
Money from fares pays for operation and maintenance. It does not pay for construction of new lines. UTA decided six months ago it had to raise fares.
UTA riders, Trax, buses and paratransit will soon shell out more. UTA rider Amilcar Gamarro says, "The fare right now is pretty expensive, and the one coming up in January is even worse."
UTA blames gas prices. Justin Jones, UTA manager of government relations, says, "Those prices don't seem to be going down. So, as our prices go up, we ask the passengers to share a little bit."
None of the people we talked with was happy about the fare increase, but they all said they'd keep riding. Darryl Peery said, "I'm sure it's going to bite. It's just a reflection of our economy."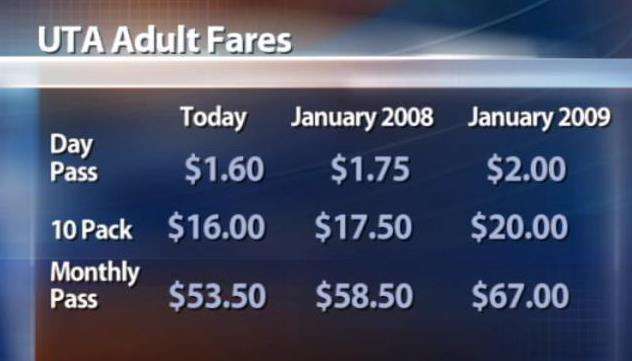 Today bus and Trax riders pay a $1.60 one-way fare. It rises to $1.75 in January and $2 in 2009. A 10-pack of tokens is $16 today. It goes up to $17.50 in January and $20 in 2009. An adult monthly pass that costs $53.50 today goes up $5 in January, and another $8.50 in 2009. Matthew Roberts said, "I was not aware of that." When asked if he would still ride UTA, Matthew replied, "If that's what it is, you gotta pay what it is."
In a separate funding issue, Davis and Weber counties will get reduced services for at least part of 2008, and it could impact FrontRunner hours when it rolls in April.
Elected officials in those counties did not pass a sales tax hike to make up for revenue lost from the removal of the tax on food. Jones says, "We will look at across the board what we can do to have the least impact on passengers in Davis and Weber counties."
It's a difference of $7 per taxpayer. Salt Lake, Box Elder, Tooele and Utah counties already passed the increase. Jones says, "We may get to our public hearings in January and by that point already reached an agreement with the two counties."
UTA is optimistic about that to limit reductions in service. For more information on fares, go to the related link
×
Related links
Most recent Utah stories