Estimated read time: 2-3 minutes
This archived news story is available only for your personal, non-commercial use. Information in the story may be outdated or superseded by additional information. Reading or replaying the story in its archived form does not constitute a republication of the story.
John Hollenhorst reporting We usually think of deer as harmless creatures, but a fatal accident overnight shows just how dangerous they can be when they wander onto a highway.
An SUV loaded with five Utah college students rolled three times after the driver swerved to avoid a deer on I-84 near Snowville. Twenty-two-year-old Ashley Hansen was killed. Four others were injured. The group was returning to BYU and LDS Business College after spending Thanksgiving weekend in Washington state.
Fatal encounters with deer are now so common that UDOT is teaming up with experts to do something about it. Experts at Utah State University estimate it happens more than a million times a year across the country, at least 10,000 times a year in Utah.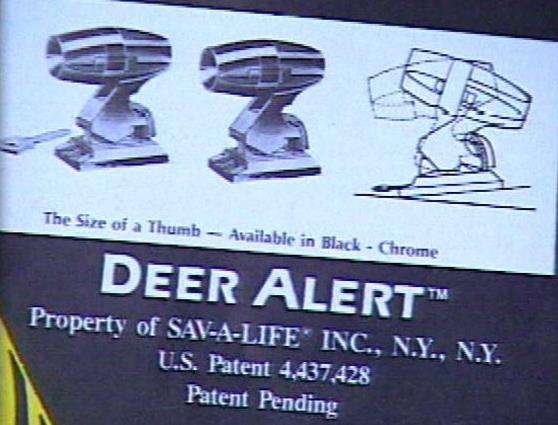 The videos are all over You Tube: deer in the headlights, deer in the daytime. Sometimes they're spectacular. Sometimes they end with severe consequences, according to Utah State University ecologist Patricia Cramer.
"The average number of people that die per year across the country is 200, is the average number; and in Utah somewhere between about two to six people on average die each year in wildlife vehicle collisions," Cramer said.
Often, drivers are at fault for driving too fast in wildlife areas. The officer investigating Sunday night's fatal crash says there's evidence the SUV was traveling 87 miles an hour. "At nighttime on your low beams, generally speaking, about 55 miles an hour is about as fast as you dare travel without outrunning your headlights," explained Utah Highway Patrol Lt. Lee Perry.
USU experts have studied various solutions. Highly touted gimmicks such as car whistles and reflectors don't work they say, but government action does work. "A real commitment by a state DOT working with the wildlife agencies to see where the collisions are happening, putting crossings in where the wildlife go under the road or over the road, and fencing to channel the animals to those crossings," Cramer explained.
So far, the state of Utah has only built 17 wildlife crossings where deer and elk can get to the other side of the road without tangling with oncoming traffic.
Cramer says UDOT has made a commitment to more research and to building more crossings. "We'll easily double, probably triple the number in the next five years," she said.
Meanwhile, if a deer jumps in front of you, experts say don't swerve suddenly because you can easily lose control. "Hitting the deer with your car is quite often a better solution than having somebody killed or seriously injured in your vehicle," Perry said.
In fact, the state of Michigan bluntly tells drivers: "Don't Veer for Deer." The problem is increasing in the East because there are more deer. In the West it's because we're driving more, often right where the deer want to be.
×
Related links
Most recent Utah stories