Estimated read time: 2-3 minutes
This archived news story is available only for your personal, non-commercial use. Information in the story may be outdated or superseded by additional information. Reading or replaying the story in its archived form does not constitute a republication of the story.
Courtney Orton and Randall Jeppesen reporting An Orem family got a huge surprise today when they returned from a weekend in Idaho.
The Harris family lost their son and brother earlier this month when a slide fell on top of him in the backyard. Now friends and neighbors have transformed it into a place where the family can remember him.
"It's been a labor of love. All of us just love them so much and we wanted it to be a change from what it was when the accident happened," explained Katherine Shumway.
Earlier this month, 5-year-old Brett Harris was killed in his backyard when a slide fell on top of him. Since then, it's been hard for the Harris family to go out back.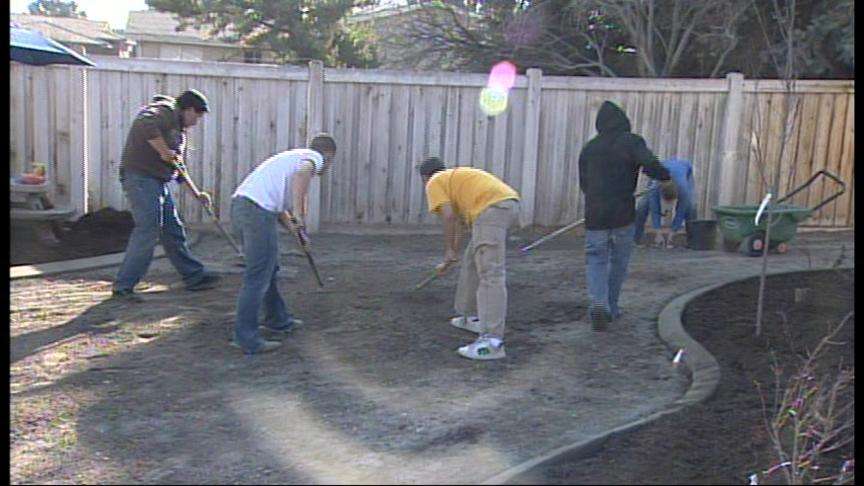 The family was greeted by a yard full of family and friends when they pulled into their driveway this evening. Brett's mother, Laura, had no idea the backyard transformation was going on, but her husband did. "Well, my family is secretive around the holidays, so you don't ask. So, I didn't have any idea it would look like this at all," she said.
Laura says the backyard was just dirt and rocks when she left, and now it's just beautiful. "I can see so many people's talents at work here, and I don't know what to say. I'm so grateful," she said.
Neighbor Andrea Crockett said, "I want them to be happy and I want them to be in the backyard again." That's why she and her husband, Nick, along with many others, decided to get his backyard makeover going.
Andrea had already drawn up the design, so she started making phone calls for help. "I started calling people, asked them if they could give us a good deal, if they could come and help, whatever they could do and the word of mouth spread," she said.
"It's been amazing how many people have come to help us," Nick said.
That was only a week ago and, believe it or not, they only started working on the yard last Friday. "We brought in about six dump trucks full of top soil, six and a half cubic yards of bark; completely re-landscaped the backyard," Nick explained.
It's a brand new backyard, complete with a fire pit and a yard full of sod. "This is a new yard and hopefully it will be a fresh start and there's a lot of people that care," Nick said.
The sandbox is a memorial for Brett. Neighbors say he always wanted one, now he finally got it.
×
Related links
Most recent Utah stories