Estimated read time: 2-3 minutes
This archived news story is available only for your personal, non-commercial use. Information in the story may be outdated or superseded by additional information. Reading or replaying the story in its archived form does not constitute a republication of the story.
Sarah Dallof reporting A group called "Guardian Angels" comes to Pioneer Park to help clean up drug and violence problems.
"You can't expect things from the community if you're not willing to give back. You can't complain about crime if you're not willing to do something about it," group members say.
Guardian Angels is a national citizens' crime patrol, and it's made up entirely of volunteers. The group recently started a Salt Lake chapter, and tonight went on its first patrol of Pioneer Park.
The patrol went well. It was a learning experience, a chance for members in training to see how the Guardian Angels handle different situations.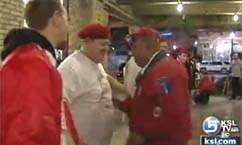 Before the Guardian Angels hit the streets, they checked for weapons. The volunteer crime patrol doesn't carry any. And although members are trained in martial arts, they try to solve every situation peacefully.
One of the Guardian Angels, Chris Crisman, explained, "It's presence. It's like cockroaches. If you put a light on a cockroach it runs away. You come out to Pioneer Park, you get visibility on Pioneer Park and they don't want to be there anymore."
Then they hit the road on a loop that started near the Pierpont Lofts and went through an underground parking garage, where they stopped to hear tips from the Director of Chapter and Operational Development, Frank Lee.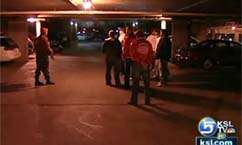 "While we're in the parking lot, have a flashlight," he advised. "Be very visual. Look under the car."
The patrol then moved to Pioneer Park, where the group found a homeless man who was drunk and therefore not allowed into the shelter. They helped him into his coat and talked with him while trainees watched.
"We're the Guardian Angels," they told him. "We're not bad people. We helped you, right?"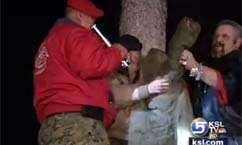 The Guardian Angels handled short stops like that Saturday night. They say their presence is meant as a thank you to police officers. It's an extra boost of assistance. And, they say, it's the right thing to do.
"It doesn't matter where it's at. Crime doesn't have a place to be. It's not acceptable," Crisman said.
The Guardian Angels plans on graduating the first students in the Salt Lake Chapter this January. That means Salt Lake group members will be able to go out as a group on their own, without national representatives.
The group focused on Pioneer Park today due to recent reports of crime, and statistics that show a problem in the park. This week, Salt Lake City Police made more than 600 arrests, many for drugs, in an area that includes the park.
Statistics obtained by Eyewitness News last month show dramatic increases in drug activity. Since 2005 drug offenses in the park quadrupled. Salt Lake City Police responded by upping patrols and shifting assignments to bring additional officers to the park.
The Guardian Angels hope the new chapter will be able to help those officers improve security.
×
Related links
Most recent Utah stories