Estimated read time: 4-5 minutes
This archived news story is available only for your personal, non-commercial use. Information in the story may be outdated or superseded by additional information. Reading or replaying the story in its archived form does not constitute a republication of the story.
SALT LAKE CITY — Watching Day 12 of Camp Kyle up at Rice-Eccles Wednesday morning, it was clearly apparent that it wasn't the best effort by the Utes.
"We hit a little bit of a wall this morning," Utah head coach Kyle Whittingham said. "It was not our most effective practice. It wasn't a step backward, but we weren't as sharp as we needed to be. We looked tired, which can't happen. We need to fight through it."
Whittingham even went as far to say that no one stood out in practice today. After 12 days of going up against each other, the team has hit a wall, and now it rests upon the coaching staff to see if they can once again motivate their players.
It is easy to see that the offense is sick and tired of going up against the Utes' No. 1 defense. Would you want to block Star Lotulelei time and time again in practice?
"The strength of our team is the defensive line," Whittingham said. "It was last year, and it will be this year."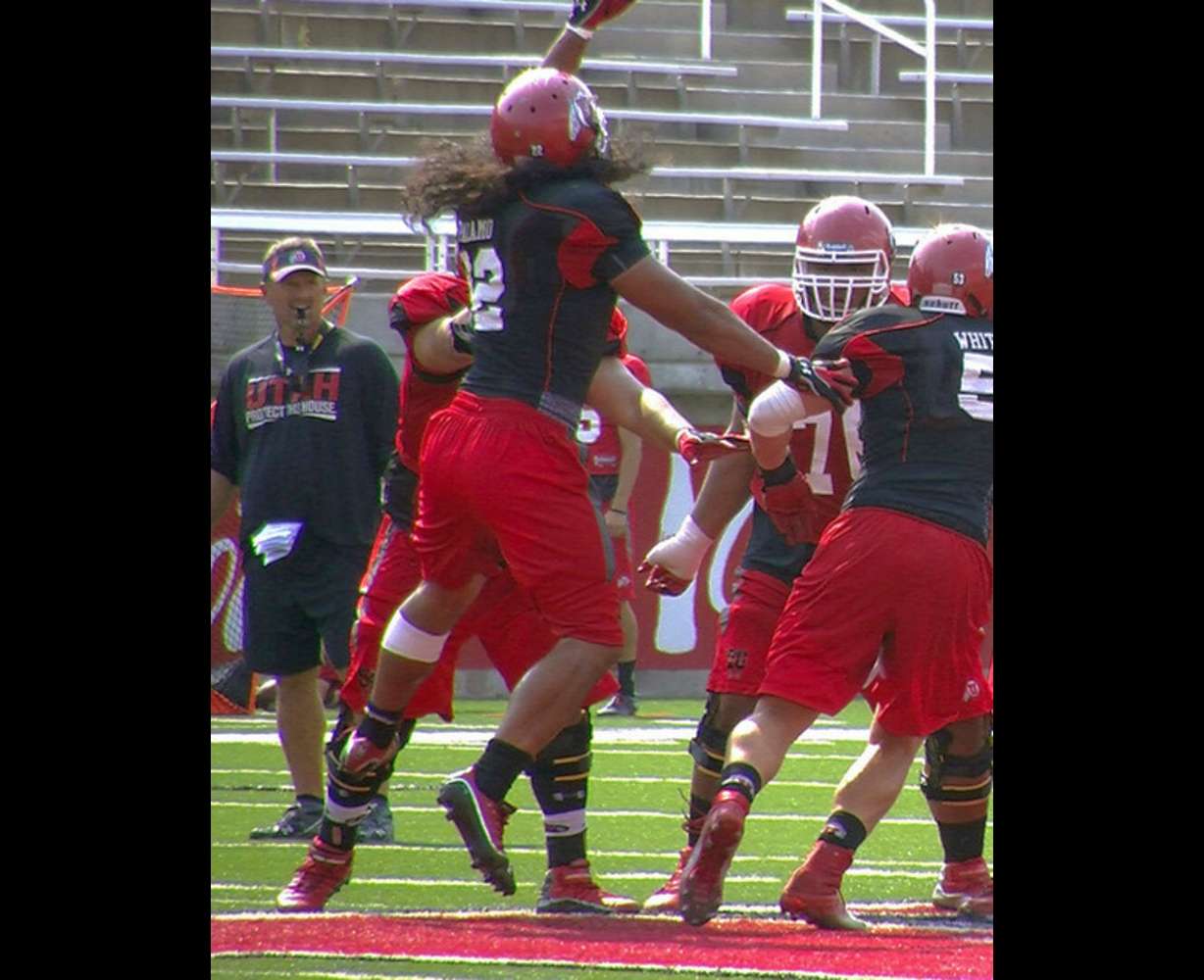 After practice, the team ran its fair share of wind sprints, and just watching them run made me tired. One note is that of the specialist group, wide receiver turned defensive back Tanqueray Towns (nicknamed Tango) continued to lead the pack nearly every sprint. QB Adam Schultz battled with RBs John White and James Poole for the top spot in the other group.
On the injury front, OL Sam Brenner and S Quade Chappuis are recovering from sore shoulders while OL Latu Heimuli sat out with a sore foot. Those injuries aren't significant, but were allowed some time to allow for recovery. LT Filiaga will continue to watch from the sidelines for another 10 days recovering from a strained knee.
Utes picked team captains
The Utah players selected team captains for the 2012 season. Two captains are from the defensive line, Star Lotulelei and Dave Kruger. We caught up with Dave after practice, be sure to watch his interview in the player above.
On the offensive side, RB John White IV and Luke Matthews were selected. "There's nobody that has come through this program that practices any harder than those two guys," Whittingham said.
Pac-12 Networks start TODAY
The Pac-12 Networks launch Wednesday and Comcast customers with Digital Starter Service who live in Utah will be able to watch Pac-12 games and other Pac-12 programming in standard definition on channel 37 (53 in Heber) and high definition on channel 757. The Pac-12 Networks will go live by the end of the day on Wednesday according to Comcast Xfinity TV.
Utah fans living out of state or who do not subscribe to Comcast should visit the Channel Finder at http://www.pac-12.org/SPORTS/Pac12Networks/ChannelFinder.aspx to learn how to get the Pac-12 Networks in their area.
In the future, Comcast also plans to offer its Utah customers access to TV Everywhere, which will offer subscribers live network content on personal computers, mobile devices and tablets. A TV Everywhere guide will be available soon on Pac-12.com.
Scrimmage update
by Gregory Rose, ksl.com Contributor
The University of Utah football team undertook their second scrimmage of fall camp yesterday.
This video by the Utah Athletic Department shows some of the highlights from the scrimmage followed by a quick breakdown by Coach Kyle Whittingham, summarizing the scrimmage as more encouraging than the first scrimmage.
×
Photos
Related Stories