This archived news story is available only for your personal, non-commercial use. Information in the story may be outdated or superseded by additional information. Reading or replaying the story in its archived form does not constitute a republication of the story.
SALT LAKE CITY — The Utes wrapped up their second week of fall practice Saturday morning, and now just 19 days separate themselves from running out of the tunnel for their home opener against Northern Colorado on August 30th.
"It was a positive week. We had a really good work day today, we got a lot done," Utah head coach Kyle Whittingham said. "We still have a lot of things to work on - the red zone offense is still not where it needs to be. But overall, as far as effort and concentration, they are trying. We are getting good effort and they are trying hard. We still have 19 days til we play, and we need every one of them."
Whittingham noted RB John White IV, DT Star Lotulelei and QB Travis Wilson as standouts in today's practice. Wilson got the majority of the reps in the portion that the media was able to observe.
"Travis Wilson, as I mentioned yesterday, is closing the gap," Whittingham said.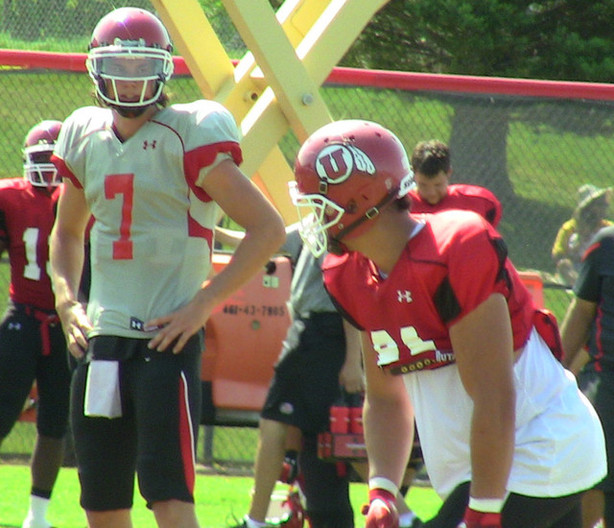 But Whittingham was also quick to note that no depth chart changes have been made yet, indicating that Hays is still listed at No. 2 and Wilson at No. 3. "We are going to keep giving (Wilson) reps. The reps will be distributed a little differently. The better you do the more reps you get, but as far as depth chart changes, nothing yet."
Regardless of who takes snaps under center for the Utes this year, the running game will obviously be a featured part of the offense with John White IV, Utah's single season rushing leader returning. I interviewed White and RB James Poole on Friday and RB Kelvin York on Tuesday.
Seniors Tevita Stevens and Sam Brenner will be called on as the anchors of the offensive line to help aid in the rushing attack and provide pass protection. They are the guys that seemingly do most of the work but get little to no outside credit. Well, that stops here.
For center Tevita Stevens, this is his fifth fall camp at Utah. Redshirting in 2008, he is one of the handful of players still on the roster that was on Utah's historic 13-0 Sugar Bowl team. A lot has changed for him since then.
"As a freshman, you're coming in looking to show what you've got and to try to earn a spot. But as a senior, you're trying to lead, trying to get the guys caught up... definitely trying to be more of a leader," Stevens said.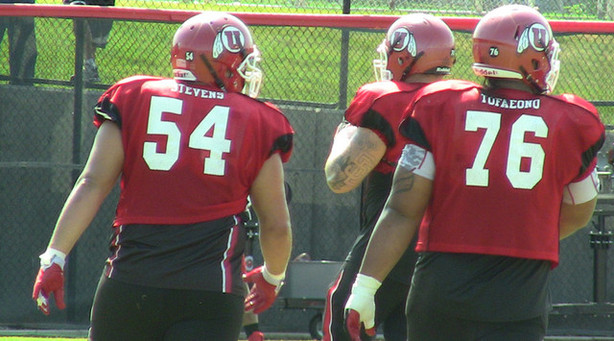 Stevens has played in every game over the last three seasons, with 36 starts and either right guard or center. But what you don't know is that he is a regular on the honor roll and was named to the Pac-12 All-Academic first team.
"Even though you are dog tired going to class after practice, you have to put forth the effort and do your best. That's what I've tried to do with academics and with football," Stevens said.
This will be Sam Brenner's second year as the starting right guard for the Utes, following up his impressive first season in which he only allowed one sack.
"Last year I had a lot of learning throughout camp and though the season, and this year is about building on those skills I learned - perfecting hand placement, foot, steps, timing - just building my game up throughout this camp," Brenner said.
Brenner is also a senior, and like Stevens, has accepted the responsibility of bringing the new guys up to speed.
"As a senior you provide another point of view for the younger players," Brenner said. "You help coach them up on techniques or things that you may have learned on your own just throughout the years coming up in the program. You can watch their reps and help them grow and help them learn a lot, just by adding another point of view and sharing your experience with them."
Both Brenner and Stevens were great interviews, so be sure to check them out in the player above. But before I let them go, I asked each of them what they would like to say to Ute fans.
"Be ready to have a great time and expect the best out of the offensive line, that's for sure," Stevens said. "We are going to come out ready to hit!"
"Thank you guys for all of your support. Keep coming and selling out this stadium every game because we are not going to disappoint," Brenner said.
×
Photos
Related Links
Related Stories