Estimated read time: 2-3 minutes
This archived news story is available only for your personal, non-commercial use. Information in the story may be outdated or superseded by additional information. Reading or replaying the story in its archived form does not constitute a republication of the story.
MAGNA — Visitors to the Great Salt Lake don't have to go far to encounter thousands of eight-legged friends.
And if they're not careful, they could easily take a few with them when they leave.
Harbor master Dave Shearer said the spiders are an annual feature at and around the marina. This year's hot, dry weather has actually produced a smaller spider population than usual, he said. But visitors might not know it when they see the blanket of webbing covering rocks, bushes and boat masts.
"They're part of the nature here that we just accept," Shearer said. "They're big, they're ugly, but it's not half as bad at the marina as it has been in past years."
Matt Krier, a New Jersey resident, was visiting the marina on Monday as part of a trip through Utah. He said he saw a lone spider when he first arrived and was then surprised when he made it to the rocks where thousands of large black spiders had spun their webs.
"I wouldn't want to get caught up in that web because I'd start freaking out, but it's beautiful," he said, inching closer and closer to get the perfect shot with his camera.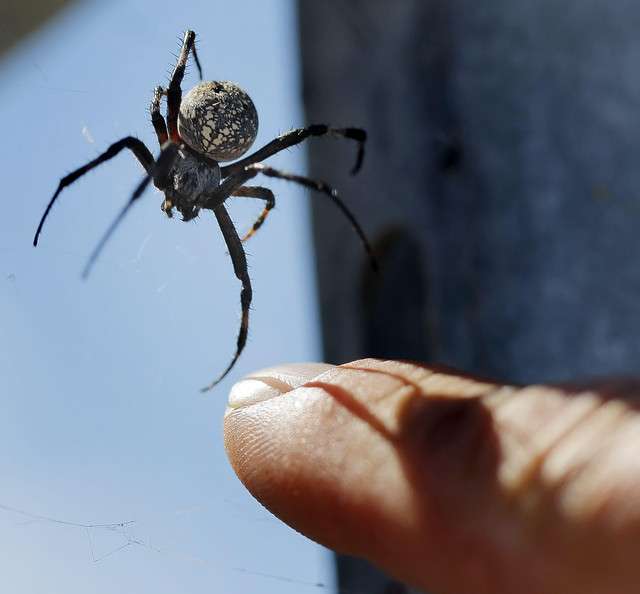 His son, also named Matt, was less appreciative of the spiders' aesthetics and kept his distance.
"They're just pretty freaky," he said. "I've never seen one that big before."
Shearer said the black and grey spiders, known as orb weavers, are completely harmless to humans but help cut down on the number of wasps, brine flies and more poisonous arachnids like black widows. He said state parks employees try to eradicate the spiders on the marina's docks and public areas, but otherwise the lake is the spiders' domain.
"On the Great Salt Lake you've got brine flies and you've got spiders," he said. "If you need to be cured of arachnophobia, this is the place to come."
Lynn Stevens, who owns a boat at the marina, said he sprays his boat every two or three days to keep the spiders at bay.
"I've never seen so many spiders anywhere," he said. "My wife gets scared half to death of them so I try to keep them down to reasonableness."
Stevens said of all the pests on the Great Salt Lake — from the brine flies and wasps to the birds that nest in a boat's rigging — the spiders are the worst. Birds come and go and the wind makes the flies settle down, but the spiders, he said, "are always there."
He said often when he's below deck, he'll feel a tickle and look down to see two or three of the spiders crawling on his legs.
"That's not too good of a feeling," he said. "I don't care how innocuous they might be, they creep you out."
×
Photos
Most recent Utah stories