Estimated read time: 2-3 minutes
This archived news story is available only for your personal, non-commercial use. Information in the story may be outdated or superseded by additional information. Reading or replaying the story in its archived form does not constitute a republication of the story.
Jed Boal reportingAmerica counts new veterans every day. Many come home with injuries that turn their lives upside down.
We met one of those vets who, along with his family, keeps battling through the adversity.
A year of service in Iraq or Afghanistan is a sacrifice. Coming home with a disability is a heavy price to pay. Sergeant First Class Gordon Ewell came home injured but wants to be a voice for other veterans.
Ewell honors the American flag every day.
"I'm thankful to have paid some towards the bill of freedom," he said.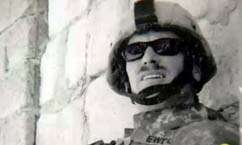 The former Utah National Guardsman completed 59 combat missions in Iraq, sharing the latest intelligence on roadside bombs. It was a dangerous job. On six separate occasions Ewell's vehicles took direct hits. Repeated concussions took a toll.
"My brain just couldn't take it any more," he told us.
The sergeant came home to his family in Eagle Mountain a year ago with traumatic brain injury. His wife, Terra, says it challenged the whole family.
"He is an exemplary soldier. He will always be a soldier to me," she said.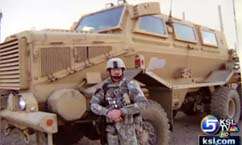 The injury upsets his memory, motor skills and balance. He's legally deaf and blind and takes a lot of tumbles that need stitches. But he says so many others have it much worse.
"I was blown up a lot. [I've] seen a lot of explosions. I feel pretty fortunate," he said.
Because of that disability, he will receive this year's Home for a Hero with no financial burden. Alta Vista homes teamed up with two national nonprofits to build a single-level home in his neighborhood, which is safe and comfortable. The Ewells plan to speak up for other vets.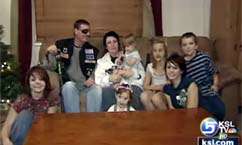 Terra explained, "We feel like it's been an awesome opportunity to be a voice for veterans."
They should move into their home around New Year's Day. We'll catch up with them.
Wednesday the community is invited to the Home for a Hero benefit concert at Willowcreek Middle School in Lehi.
Home for a Hero, A Night of Thanksgiving Concert
Wednesday, Nov. 14, 7:30 p.m.
Willowcreek Middle School
2275 W. 300 North, Lehi
$7 per person
Proceeds go to help complete the 2007 Home for a Hero
Artists include: Jericho Road, Alex Boye, the International Children's Choir, Joshua Creek, Jaden Bliss.
To purchase tickets call: 801-796-8032 or 801-427-7404. Some tickets should be available at the door, but they are limited to 800.
×
Most recent Utah stories