Estimated read time: 2-3 minutes
This archived news story is available only for your personal, non-commercial use. Information in the story may be outdated or superseded by additional information. Reading or replaying the story in its archived form does not constitute a republication of the story.
Sam Penrod reportingQuestions are still being asked in response to a story Eyewitness News broke Wednesday night involving a gasoline leak from an underground tank in the Central Utah town of Gunnison.
Why did it take a month before Top Stop realized something was wrong?
There is some debate over who discovered the leak; Top Stop says it did, but a business owner believes her report of fumes to state officials led them to the gas station.
Either way, there is a system available that Top Stop was not using that could have immediately alerted it something was wrong.
A 12,000-gallon tank leaked into the ground along Gunnison's Main Street in early July. That was during the Milford Flat Fire, which shut down I-15, and the highway through Gunnison became the detour route.
With many more cars filling up in town, there was a much larger volume of gasoline put into the tank, and that pressure is believed to have caused the leak.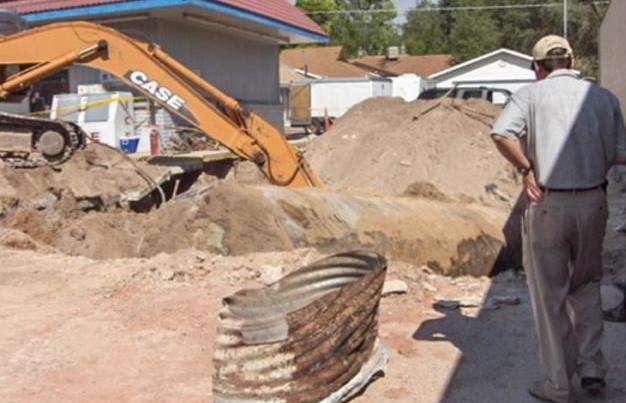 But since Top Stop used what is known as an SIR (Statistical Inventory Reconciliation) system, it took much longer to discover the leak. Donna Kemp Spangler, spokesperson for the Department of Environmental Quality, said, "The bottom line is that the Top Stop was using a system with a little bit of delay in noticing that there was actually a leak. Once they did discover the leak, they did notify the Department of Environmental Quality, and that's when we got involved."
The SIR system that Top Stop was using is an approved measuring method from the Environmental Protection Agency.
But I talked to a local resident who owns a gas station a block away, and he says he invested $9,000 in upgrading an electronic system that would immediately alert a gas station to a problem.
Now the cleanup of that contamination problem is under way, and the extent of how widespread the gas leak was is still being investigated.
×
Related links
Most recent Utah stories