Estimated read time: 2-3 minutes
This archived news story is available only for your personal, non-commercial use. Information in the story may be outdated or superseded by additional information. Reading or replaying the story in its archived form does not constitute a republication of the story.
Sandra Yi reportingThe plane arrived, luggage got here, but a 15-year-old girl who was supposed to travel here from Missouri is missing.
Emily Graeber boarded a Southwest Flight in St. Louis, headed for Salt Lake. Her bags made it, but there's no sign of Emily.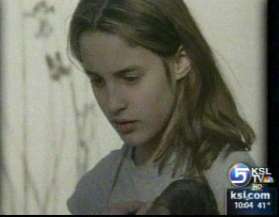 Ken Graeber, Emily's father, says the past nine days have been a living hell for him and his wife, Marsha.
"It's scary where she might be or who she might be with," Marsha said.
Their 15-year-old daughter seems to have mysteriously vanished from the St. Louis airport. All indications were Emily got on a Southwest plane headed for Salt Lake, but she never made it.
Lt. Tracy Jensen, with the Syracuse Police Department, said, "Her ticket was scanned to get on the flight, but we're still debating whether or not the flight was made."
Emily is a patient at the Island View Residential Treatment Center in Syracuse, a place for teens with emotional and psychological problems. Emily went to Missouri on a home visit and was scheduled to come back to Utah on October 27.
Dr. Jared Balmer, with the Island View Residential Treatment Center, said, "My understanding is she made some pretty good progress all along, but I guess this was a major hiccup, and we're certainly all very concerned."
Police in Syracuse say they found notes in Emily's luggage that indicate she had thoughts of running away.
"There is nothing that leads us to believe that she met anyone in Utah that would help her, or help harbor her or help her run away," Lt. Jensen said.
The FBI and police in St. Louis are looking at 140 hours of airport surveillance video. Emily's parents say the teen hasn't used her debit card. They fear what could have started out as a runaway situation may have turned into something much worse.
"Really, that's horrific that leads me to believe that something bad has happened to her," Ken said.
There is a missing child alert going out in Missouri for Emily Graeber. If you've seen her or know where she is, call Syracuse police.
×
Most recent Utah stories