Estimated read time: 3-4 minutes
This archived news story is available only for your personal, non-commercial use. Information in the story may be outdated or superseded by additional information. Reading or replaying the story in its archived form does not constitute a republication of the story.
Ed Yeates Reporting Whatever happened to a young Idaho boy who had a scary disorder, so rare that he has the only documented case of it in the world?
His story began in 2004 with a treatment that literally took him to the threshold of death. Did it work?
We begin our story where it all began more than three years ago -- in darkness. Let's go back to Orofino, Idaho. Nicholas Ashby stayed inside during the day with blinds closed, because the sun burned his skin instantly. Playtime outside took place at night.
The 3-year-old boy had what is called porphyria, which by itself is rare. But the manifestation of what is called the gata gene, in his case, was even more bizarre.
Dr. Michael Pulsipher of Primary Children's Medical Center explained, "He's the only child in the world who's ever been described with this particular disorder. So even though it looked like this very rare disorder, it's actually a unique disorder that he has."
Eventually the boy's exposed skin would have been covered with full hair, as a protection. Also, his adult teeth might have come in black.
With that appearance, folklore in unenlightened times unfairly labeled the disease as a curse that turned humans into animals. Ridiculous!
Now, back in his hometown of Orofino, Nicholas has crossed the bridge no one ever thought was possible. He's cured.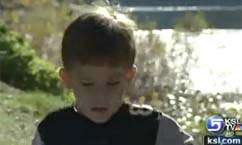 At age six, he walks with his parents in full sun. No blisters; the skin is almost spotless.
Nick's mother, Mary Ann Mattson, said, "He's growing like a weed. He's finally on the growth charts. He's talking. He's a brilliant little boy."
More than three years ago, Nicholas got a bone marrow transplant at Primary Children's Hospital. But after he went home, he relapsed three different times. Surgeons took out the spleen and gallbladder. On the last LifeFlight to Primary, he was bleeding internally. It didn't look like he would survive the night.
But then, "The next morning he sat up in bed," his mother said. "Doctors said there was nothing more they could do. And today, he just started pre-school three weeks ago."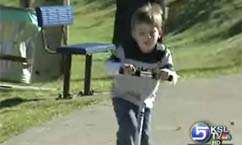 Four months ago he didn't have enough coordination to ride a three-wheeled scooter, let alone a two wheeler. But now that's different.
Nick's father, Robert Ashby, said, "Last weekend he tore it up at the skate park -- a two-wheeled scooter -- and he tore it up like all the other kids. I sat there and thought, wow, he's just like these other kids."
Dr. Pulsipher said, "He absolutely is cured from all the manifestations of the blood disorder that he had."
Developmentally he's behind by about three years. But with the cure, he might catch up.
Robert said, "He's got life. That was our goal, to give him a normal life."
Mary Ann added, "When he wraps his little arms around me and gives me a big kiss and says, 'Mommy, you're my best friend,' those are words I thought I would never hear."
No drugs, not even an antibiotic. Just a little high blood pressure medication, and that's probably temporary.
Because Nicholas so far is the only one documented with this extremely rare form of porphyria, there are still a lot of unknowns down the road. But right now everything looks good for him.
×
Most recent Utah stories