Estimated read time: 3-4 minutes
This archived news story is available only for your personal, non-commercial use. Information in the story may be outdated or superseded by additional information. Reading or replaying the story in its archived form does not constitute a republication of the story.
DUCHESNE — The Church Camp Fire flared up Tuesday, burning over the ridge from Argyle Canyon to Indian Canyon.
High temperatures, low humidity and gusting winds kept firefighters busy Tuesday as the fire raged on. It has charred approximately 4,000 acres since it began burning Sunday. The fire continues to spread north and east of the Timberland Campground and mandatory evacuation orders remained in place.
"We're seeing a drastic increase in fire activity up on the mountain right now," said Louis Haynes, spokesman for the Ashley National Forest. "It's something that some of the firefighters in the (Uintah) Basin haven't seen in years."
The blaze destroyed six to eight structures and more continue to be threatened, Haynes said. It was unclear if those structures where houses or other structures. Fire officials had set up structure protection on the east and north flanks of the fire.
Highway 191 remained open to the public, but travel delays are expected for the next several days, due to heavy smoke and fire traffic in the area. The public is encouraged to stay off of the Argyle Canyon Road.
Dixie Robinson of Taylorsville said her cabin was one of the first to be burned. An early survey of the home and fire indicated it would be spared from the flames. But it was not to be.
She and her husband had just returned home when they heard word of the wildfire raging in the canyon adjacent to their Duchesne cabin. They quickly returned to the cabin and used shovels to extinguish a couple of hot spots burning nearby, and they left early Monday morning, thinking the fire was out.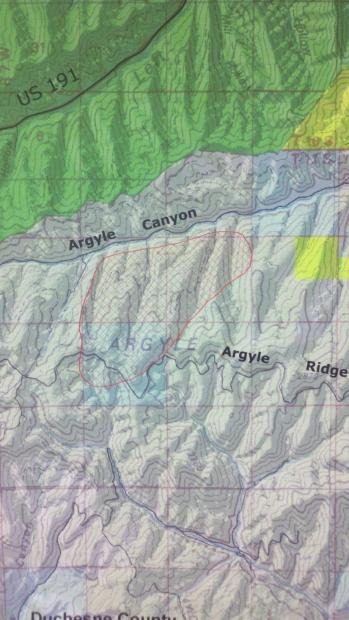 "The winds were calm, it was cool out and it seemed like there wouldn't be any problems," she said. But winds fueled the fire Monday, sending it over the ridge and onto private property, where Robinson's cabin was consumed.
"We didn't take anything out," she said, lamenting her decision to leave the cabin without grabbing an heirloom quilt her mother had made.
Conditions Tuesday kept property owners out of the area, even though a mild thunderstorm provided some relief late Monday. Evacuation orders remained in effect as a Type II fire management team arrived to relieve local firefighters.
The Type II team puts an additional 35 to 40 firefighters from around the West, including Idaho, Nevada and Wyoming, at the front lines of the fire. At least 100 firefighters, four air tankers, eight fire engines, two water tenders, two bulldozers and a commercial plane outfitted to carry water and fire retardant were working on the fire Tuesday, Haynes said.
"Right now our focus is on containing the active fire in the area," he said. "Firefighter and public safety are our No. 1 priority."
One challenge firefighters say they face is a lack of defensible space around some of the cabins and narrow access roads, some of which are gated and locked.
"When this fire started, I went in to a couple of these cabins and I just have a small truck, but I had trouble getting in to them, they're so tight," said Ken Ludwig, a wildland urban interface coordinator for the Utah Division of Forestry, Fire and State Lands in the northeastern area. "There's no way we could get a fire truck in there."
One of Ludwig's primary jobs is helping homeowners improve their property, to prevent possible losses from wildfire.
"There's no guarantee in fire, of course, but we can help increase the chance of survival," he said. It's not necessary for property owners to completely remove trees, "but we need them thinned out and cut up so the limbs are at least five, six feet off the ground," Ludwig said.
Fire officials said there is no known natural cause for the Church Camp Fire, therefore they are considering it human-caused. It is one of more than 400 fires that have burned in the state so far this year — about 380 of those have been caused by human activity.
Contributing: Wendy Leonard
×
Photos
Related stories
Most recent Utah stories