Estimated read time: 2-3 minutes
This archived news story is available only for your personal, non-commercial use. Information in the story may be outdated or superseded by additional information. Reading or replaying the story in its archived form does not constitute a republication of the story.
Carole Mikita ReportingTens of thousands of Latter-day Saints are celebrating in the Kingdom of Tonga.
Elder Russell M. Nelson of the Quorum of the Twelve Apostles and other leaders of The Church of Jesus Christ of Latter-day Saints have traveled there for the rededication of a temple.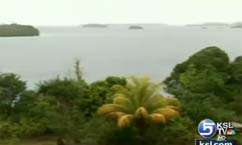 The aqua blue of the sea combines with the ancient rugged rocks and the lush tropical plants to create the stunning scenery of the island nation of Tonga. The marching band of His Majesty's military heralds the closing of Parliament. King and Cabinet gathered for the annual ceremony.
But even more people gathered on this day in the rugby stadium for what was the largest musical production in modern-day Tongan history.
Twenty-five hundred young Latter-day Saints performed native dances of the South Pacific Islands in a cultural celebration honoring the re-dedication of their temple. The Tongan children performed traditional numbers from Tahiti, New Zealand, Hawaii, Samoa, Fiji and Tonga.
Arai Tainai, a celebration dancer, said, "The rededication of the temple is a great opportunity for me to be one of the Hawaiian companions to participate in the program. I'm very happy."
Falakesi Lokotui said, "I just wanted to have fun and welcome the apostle. It felt very good to perform for him."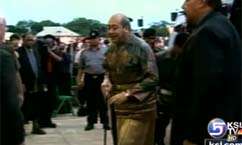 King George V and members of the royal family attended, watching the festivities and listening to an LDS Church leader not of their faith.
Elder Russell M. Nelson, of the Quorum of the Twelve Apostles, told the crowd, "We are all celebrating the rededication of the temple. I leave my love and blessing with each one of you."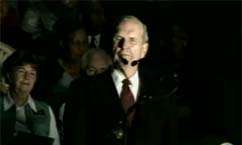 The Tongans say they hope to rededicate their efforts as well as their temple, which has undergone renovation and expansion.
As the festivities wind down, the focus now shifts to another part of the island: the more serene setting of the temple grounds. On Sunday, church members will participate in two dedicatory sessions.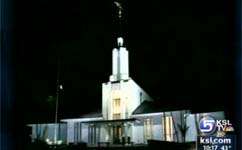 LDS Church President Gordon B. Hinckley sent word that he would have liked to have been there, but he felt it was not wise for him to travel that far at age 97. He watched the cultural celebration by satellite from his Salt Lake home.
×
Related links
Most recent Utah stories