Estimated read time: 1-2 minutes
This archived news story is available only for your personal, non-commercial use. Information in the story may be outdated or superseded by additional information. Reading or replaying the story in its archived form does not constitute a republication of the story.
Keith McCord ReportingWe spotted an item in the newspaper that would probably make Jay Leno's popular "Headlines" segment, but we wanted to check it out first, because you don't see ads like this every day!
The ad read, "Ten dollars off any machine gun rental." Machine gun? Who would want to rent a machine gun???!!! The folks at "Get Some" Guns and Ammo in Murray say a lot of people do!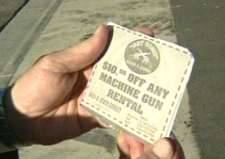 Owner Stuart Wallin said, "Every day we see the stuff from Iraq, and they see some of these guns being shot, and they're like, 'I wanna know what it's like, I want to know what it feels like!'"
Wallin says he gets two or three people each day who want to shoot the guns. Many of his customers are from states where machine guns are illegal. "A lot of out-of-state people who have no chance ever of holding this gun in their hand come in all the time and say, 'Let me sign the waiver, here's my money, and let me fire away.'"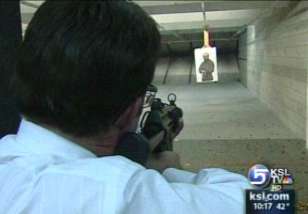 Machine guns come in a variety of styles, sizes and calibers. Photographer Cody Neilson fired an M-16: big and loud. I went with the MP 5, with a silencer: smooth, but still intimidating. They're powerful guns that shoot 20-30 rounds per second, which is why people want to fire them.
Machine gun sales and possession is legal in Utah, but licensing is different than for normal handguns or rifles. Background checks are required by the ATF, and there's a $200 fee per gun.
×
Most recent Utah stories