Estimated read time: 2-3 minutes
This archived news story is available only for your personal, non-commercial use. Information in the story may be outdated or superseded by additional information. Reading or replaying the story in its archived form does not constitute a republication of the story.
SALT LAKE CITY — Some parents may worry that when they send their son or daughter to college, it may mean a loss of faith or turning away from religion. But it can also mean a stronger spirituality.
Some believe the more education you get, the more likely you are to lose your faith. Studies show some college students do experience a loss of faith on campus. But others only become stronger in their spirituality.
At Westminster College in Salt Lake City, there are seven faith-based groups — a lot for a smaller campus. It is also home to Hillel, Utah's only campus Jewish organization backed by the national Hillel group.
---
Science and religion do not have to be in opposition to one other.
–Jan Saheed
---
Jan Saheed is the director of spiritual life for Westminster.
"Science and religion do not have to be in opposition to one other," she said.
Saheed says students who were connected to their faith before coming to college remain connected. Those who were a little rebellious before may be the seekers, or may abandon their faith.
"That's what college and teens to 20s is -- about finding oneself, questioning everything, and becoming confident in oneself and one's understanding of the world," she said.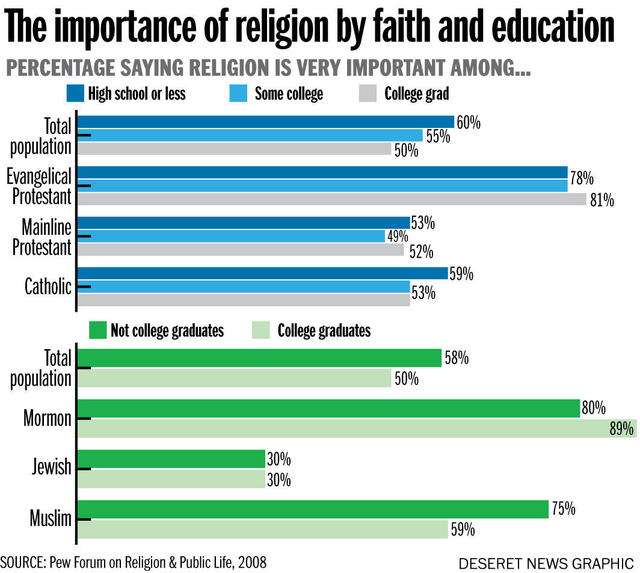 Those who were content before but not really connected may go away for a while. "But once they graduate and have a family and children, they too often will be back to their own faith," Saheed said.
She says higher education has been shown to increase people's understanding and tolerance of other faiths and world views, whereas those with a lower education may have a more rigid view.
Philip Schwadel, professor of sociology at the University of Nebraska-Lincoln, earlier told the Deseret News research suggests that education impacts religious practices and religious beliefs in largely positive ways, particularly in the areas of church attendance and devotional participation.
Schwadel noted that research shows the more education you have, the more likely you are to believe in God. He also said higher education is associated with a tendency to reject exclusivity claims and literal interpretations of scripture, although this is not universally true.
×
Related links
Related stories
Most recent Utah stories