Estimated read time: 1-2 minutes
This archived news story is available only for your personal, non-commercial use. Information in the story may be outdated or superseded by additional information. Reading or replaying the story in its archived form does not constitute a republication of the story.
Deanie Wimmer ReportingVisits from a ghost aside, it's visits to the emergency room that have more parents worried this Halloween.
The Kosorok kids have already broken out the costumes, but with food allergies, they have to be careful of the treats.
Mom, Janel Kosorok, says, "Pretty much any chocolate is out."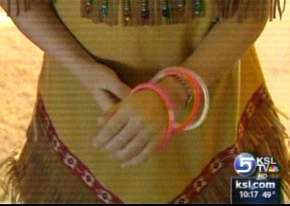 She scrutinizes every treat. "If it doesn't have the ingredients on the piece of candy, then it's given to dad or gets thrown in the garbage," she says.
Crossing the street while trick-or-treating is another concern. The Kosoroks found a fun alternative to a flashlight: glow-in-the-dark bracelets.
Those are a few good suggestions for every family. Safety advocates list the most common dangers. They haven't changed much over the years: auto-pedestrian crashes, fire from candles, candy or treat tampering and costumes that make it hard to see or be seen.
Robert Parenti, president of the Utah Safety Council, said, "They [parents] need to sit down with children, they need to plan a route. They have to make sure their children have appropriate costumes."
According to the Census Bureau, 93 percent of people consider their neighborhoods safe. It's usually the rush and excitement that lead to problems, and that includes those of us out driving.
"Slowing down and being aware of the fact that there are going to be a lot of children is very important," Parenti said.
The Census Bureau also estimates the number of trick-or-treaters has declined in recent years. Perhaps more communities are finding alternatives to running door to door on dark streets.
×
Related links
Most recent Utah stories