Estimated read time: 3-4 minutes
This archived news story is available only for your personal, non-commercial use. Information in the story may be outdated or superseded by additional information. Reading or replaying the story in its archived form does not constitute a republication of the story.
MURRAY — A year ago, a little girl living in an orphanage in Ukraine had no idea a family in Utah was racing to save her from a tragic fate. Now their lives have all been blessed in ways no one could have imagined.
Kecia Cox had never seriously considered adoption until she found Mia's picture on the website Reece's Rainbow.
"I will never forget the way her eyes just pierced my heart and soul," Kecia said. "I just knew she was calling for us."
The international orphan ministry places children with special needs. Mia's parents gave her up after they found out she had Down Syndrome. Consequently, she lived tucked away and forgotten in an orphanage.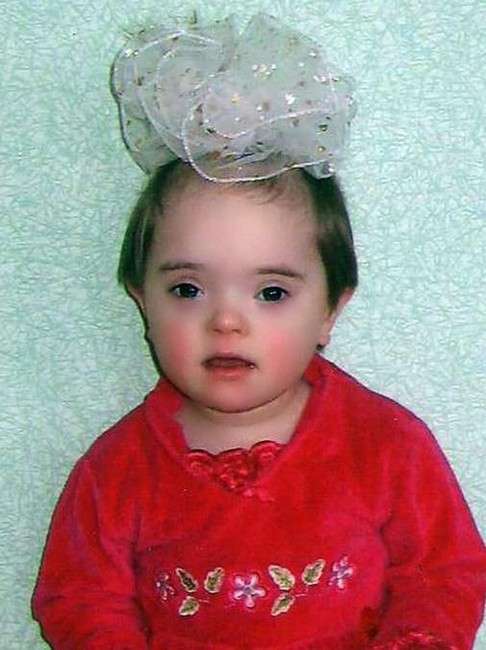 "They never looked back. They never visited her," Kecia said.
Mia rarely went outside and spent most of her days in a playpen packed with children. They were given no real attention, Cox said, adding that "they weren't let out to play. They just sat there."
When Kecia found her, Mia had just turned 4 years old. Because of that, she suddenly faced the possibility of moving to an adult mental institution if the orphanage ran out of room. Such a move would be by "far the worst situation than what she was already in," said Kris Cox, Kecia's husband.
Kris and Kecia recognized Mia's potential to thrive because their third daughter, Bree, also has Down Syndrome. They also knew they had to act fast to save Mia from the institution.
The couple started the paperwork while family and friends helped fundraise. Their girls also pitched in, and five months later Kris and Kecia were heading to Ukraine.
"We were nervous," Kecia said, "(thinking) like what if we don't recognize here? What if you don't feel that connection when we meet her? What if she turns and screams and hates us?"
Kris was especially anxious, but all his fears melted away when he was finally able to meet his new daughter. There was an instant connection between a little girl and the man she would call dad for the rest of her life.
"It was amazing to see her," Kris said, struggling to get control of his emotions, "and it made everything calm down; and the whole morning was just a blur at that point."
Mia immediately bonded with her parents, and when it came time to introduce her to her new sisters back home it was hard to imagine they hadn't been sisters since birth.
Family Videos:
Mia's Homecoming
Mia's 5th Birthday
In her new home, surrounded by the love of her new family, Mia quickly transformed from the shy, lost girl in the picture her mother spotted on the Internet into a vibrant happy child. Every day now is filled with ordinary discoveries that are magical to her.
"She hadn't been outside in the evening and seen the stars," Kecia said.
Over the past year Mia, has celebrated a lot of firsts: the Fourth of July, Halloween, Christmas, a family vacation, and even her first birthday party.
"At her birthday, all the attention is on her — and she's never had that," Kecia said. "It just made us so appreciative for her."
But Mia wasn't the only miracle. A few weeks after they returned from Ukraine, Kecia discovered she was pregnant with twins.
"We doubled our family in 10 months," Kecia said.
But that all came about with great difficulty. The twins required a life-saving surgery in the womb, and Kecia had to stay on complete bed rest for four months.
"Three of our children would not be here if it wasn't for family and friends and strangers through Mia's adoption," Kecia said, wiping away tears.
Kris, Kecia and their girls get lots of curious glances when they all go out. Looking back, they say, it's still hard for them to believe all the many miracles that fell into place to create their family.
"Life is different, but it's been great. It's been an adventure," Kris said. "It's just fun."
The Cox family is now "paying it forward" by helping their friends who also decided to adopt through Reece's Rainbow.
×
Photos
Related links
Related stories
Most recent Utah stories