Estimated read time: 4-5 minutes
This archived news story is available only for your personal, non-commercial use. Information in the story may be outdated or superseded by additional information. Reading or replaying the story in its archived form does not constitute a republication of the story.
SALT LAKE CITY — Last year, a Salt Lake woman was going through a box in the basement. In that box were dozens of letters written by Salt Lake native Roy Gee, Sr. to his mother after he joined the Navy in 1940. In them, we get a first-hand glimpse of a young man's thoughts and feelings about war, missing his family back home and a long military career.
So begins another letter from Gee to his mother, Helen, while away in the U.S. Navy. Every few weeks, between 1940 and 1955, Gee sent letters home from all over the world, describing his military life. KSL learned of these letters from Pat Duran of Salt Lake, whose mother was related to Roy's mom, and was storing some of her belongings.
"She was kind of cleaning up and trying to figure out what to do with all this stuff, and she really wanted this to get back to her family," Duran said. "They had been underneath the house for several decades, they were in a footlocker in the basement."
---
Mother, I want to tell you how fine you've been to me. I can never repay you for all the swell things you've done for me, Love you mom.
–Roy Gee, Sr., 1940
---
That footlocker contained quite the story. The earliest letter home was dated Dec. 4, 1940. Roy is 20 years old and in flight school in Pensacola, Florida.
"I soloed yesterday. I don't know if I'll be number one in the class or not, because there are a lot of good flyers down here," the letter reads.
In the letters that followed, he describes his progress: night flying, flying in formation, and awaiting orders to report to a ship. Always, there are personal thoughts.
"Mother, I want to tell you how fine you've been to me. I can never repay you for all the swell things you've done for me, Love you mom."
He also wonders about some of his unanswered notes. "I've written to both Grandma Reed and Aunt Bertha, and never received an answer. I'm pretty sore about it."
He was eventually assigned as a fighter pilot on the brand new USS Hornet Aircraft carrier. In one letter he describes it: "Gosh it certainly is a swell ship. It's very big. Everything is just wonderful." Following the attack on Pearl Harbor, Gee, by then a fighter pilot, writes about his various missions, making bombing runs and attacking Japanese ships and aircraft. Once, he had to make a forced landing in the water, when his engine cut out.
He also took part in the Battle of Midway, one of the major battles of the war. His ship, the Hornet, sank in 1942 when a Japanese fighter plane crashed into it. At times, he shows disgust for the enemy: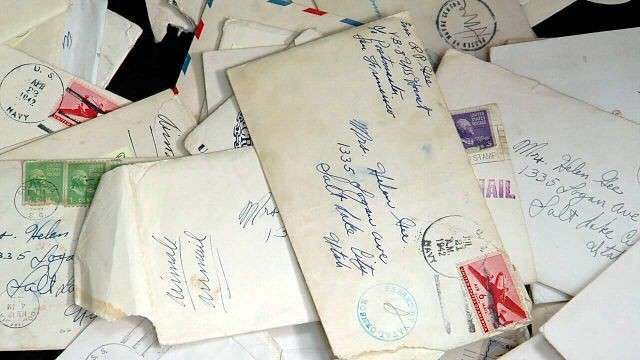 "We're strong, Mother. The (Japanese) just played a real dirty trick on us. They done their damage, and I don't think they'll have a chance to do much more."
In one letter home, we learn that Roy had a girlfriend back in Salt Lake. But, he's met someone new, and tells mom about her:
"She has pretty brown hair, and rather nice looking (not beautiful)," the letter reads. "She has very beautiful brown eyes. I fact, I like her as much as I like Kay. It's been a long time since I've seen Kay. I don't know which one I like the best. I'm certainly in a picklement."
During his career, Gee served his country in three wars: World War II, Korea and Vietnam. All the while, regularly writing letters home to his mother. In 1951, while flying missions in Korea, he does some reflecting:
"It hardly seems possible that I'll be 31 years old on March 8th. I still feel like a kid except that I know a helluva lot more things," he wrote.
His last letters were written in 1955, and in one we hear the words of a military veteran who recognizes how he's changed since those early days at flight school. "Mother, I've seen so much death in my life that I've become hardened, where I almost have no feelings when even my best friends get killed. I naturally feel bad, but I don't break down."
Gee died in 2009, at the age of 89. He received a number of military awards and decorations for his service. And that girl he told his mother about, the one who was "not beautiful?" They were married for 67 years and had 3 children.
×
Photos
Related stories
Most recent Utah stories