Estimated read time: 2-3 minutes
This archived news story is available only for your personal, non-commercial use. Information in the story may be outdated or superseded by additional information. Reading or replaying the story in its archived form does not constitute a republication of the story.
Whit Johnson ReportingIt has a foul smell and tastes disgusting, at least during a few months of the year. That's the complaint from Ogden residents regarding their tap water. Mother Nature may be to blame, and the city is looking for solutions.
It's fresh tap water straight from the western edge of the Rocky Mountains. Despite the lush landscape from which it originates, residents say it's just stinky.
For several months of the year, the drinking water in Ogden has a flavor you can't quite put your palate on.
Resident Bruce Gardiner compares it to "dirt? Dirt maybe. I don't know."
The taste is so bad Gardiner won't drink it from the faucet.
"I always go to the fridge, and I've got a filter on that," he said.
He is not alone.
Ogden City Engineer Kimball Wallace said, "This year we probably had ten times the normal number of phone calls."
Wallace says during the months of August and September complaints from the public were higher than ever.
"We're anxious to resolve the odor and taste problems," he said.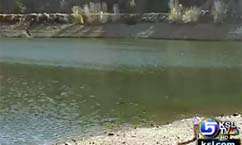 So what's causing the stink and awful taste? Experts say it's low water levels and algae built up at Pineview Reservoir.
"If you could have a little more snow pack, that would resolve the problem," Wallace said. "If we had less 100-degree days, we wouldn't have a problem with the high temperature and the turnover in our algae. So this is proportionate to our weather."
Ogden is exploring several options.
"We have the ability to put chemicals into our water treatment plant that can take out that odor and taste, but they're very expensive," Wallace said.
Expensive, but for some it might just be worth it.
Ogden City Council is considering an upgrade to its utilities system that would cost about $50 million. That would include the cost to address the odor and flavor issues.
City officials insist most months of the year Ogden's water actually tastes pretty good. They also say the water poses absolutely no threat to the public health.
×
Most recent Utah stories