Estimated read time: 2-3 minutes
This archived news story is available only for your personal, non-commercial use. Information in the story may be outdated or superseded by additional information. Reading or replaying the story in its archived form does not constitute a republication of the story.
PROVO — Thursday night, there were 339 students who made up the class of 2012 at Provo High School's graduation. On a cold January night 15 years ago, no one thought Amanda Peterson would be one of them.
KSL News reported the story that winter night: a child left critically injured, her abuser on the run. The man was later captured and convicted, but Amanda will always suffer because of his crime.
"She'll never be able to live a normal life, and possibly never be able to walk," said Amanda's mother, Susan Rice, as she recalled her conversations with doctors back in 1997.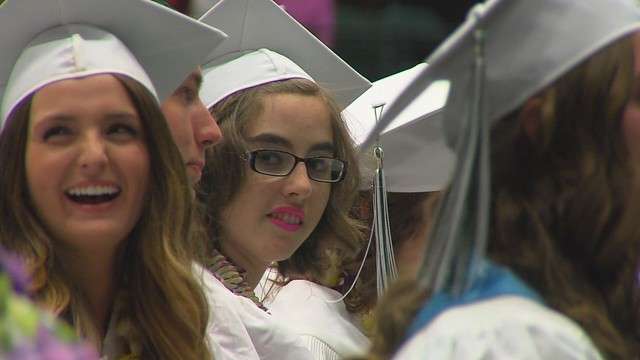 Amanda, then just 3 years old, would endure three months of hospitalization after her abuse.
"They said it was shaken baby syndrome, and they were going to put an all points bulletin out for Casey Perkins, who hurt her," Rice explained.
Amanda had been shaken so violently her brain resembled having been dropped from a six-story building. Perkins would serve eight years in prison.
Still, facing temporary blindness along with physical and mental disability, Amanda persevered, easily surpassing even the brightest of expectations by doctors. On graduation night, she was no different from any other teenager.
Before the ceremony, Amanda put on her cap and her gown, and even a new shade of lipstick. Why the bright pink? Well, it's very much what you would expect in an answer from your typical 18 year old.
"Celebrities wear it, so I want to wear it too; because it looks pretty," Amanda said.
---
I'm just so proud of the things she has done and how far she's come, and how she's never given up.
–Susan Rice, Amanda's mother
---
Like so many other moms on their child's graduation day, Rice could barely hold back the tears. "Words can't tell how happy I am," she said.
And that's really the lesson here: No one predicted Amanda would make it to this point, no one thought she could do it, but that's just fine by her. She plans to keep proving people wrong.
"I'm just so proud of the things she has done and how far she's come, and how she's never given up," Rice said.
Amanda will begin vocational training now that she's officially a high school graduate, and hopes to land a job after she wraps up her next round of classwork.
×
Photos
Related stories
Most recent Utah stories