Estimated read time: 2-3 minutes
This archived news story is available only for your personal, non-commercial use. Information in the story may be outdated or superseded by additional information. Reading or replaying the story in its archived form does not constitute a republication of the story.
Jed Boal Reporting As skiers get psyched for the season, one big Utah resort does not have a ski patrol. The patrol's union members says The Canyons locked them out. The company says they'll work it out.
When you think of union workers, you probably don't think of the ski patrol. At The Canyons, the ski patrol is unionized. But right now a labor dispute looms at the start of the season for the second straight year.
Ski patrol keeps the mountain safe. From avalanche control to injured skiers, these professionals tackle a complex job in dangerous terrain.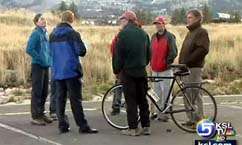 Ski patroller Ralph Morrison said, "If you buy a ticket at The Canyons, if you pay the money, you deserve to have an experienced, qualified person rescue you if you need help."
More than 50 workers with The Canyons Professional Ski Patrol Association don't know if their season will start in two weeks. This fall, The Canyons offered a contract to the patrollers. Union members voted it down.
Megan McKenna, a ski patroller and union business manager, said, "The Canyons, rather than returning to negotiations and trying to come to a mutual agreement, they have decided to lock us out, not allowing us to return to work."
The company disagrees and says it's waiting for the latest tally on union votes this Saturday.
Todd Burnette, The Canyons' vice president of marketing, said, "The ski patrol has actually not been locked out. We've chosen not to send four patrollers to an elective training this week. Our full ski patrol isn't scheduled to come to work until November 5."
The patrollers don't dispute the wages or benefits offered. But they want to negotiate during the season.
Megan McKenna explained, "We feel it's important to negotiate with the entire patrol here, when we can meet and discuss these things. The company is unwilling to do that."
But Burnette said, "We've negotiated in very good faith. We're awaiting a formal response from them."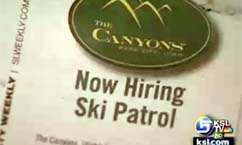 When union votes are tallied Saturday, members do not expect a ratification. Meanwhile, the company is advertising for new patrollers.
"We're concerned with the safety of the resort," McKenna said, "if they don't have their experienced, seasoned patrollers on the hill."
The company also is concerned.
"We have one of the best ski patrols in the country," Burnette said. "We look forward to resolving our collective bargaining before the season opens November 17."
Both sides are optimistic, but they are at an impasse. We'll let you know how this develops over the next couple of weeks.
The Canyons has the only unionized patrol in Utah.
×
Most recent Utah stories