Estimated read time: 2-3 minutes
This archived news story is available only for your personal, non-commercial use. Information in the story may be outdated or superseded by additional information. Reading or replaying the story in its archived form does not constitute a republication of the story.
SALT LAKE CITY — Something is missing from Jörg Rügemer's house. All of his neighbors in the Summit Park mountain community have it. But not Rügemer.
A furnace.
That's because the home architect and University of Utah assistant professor designed is so energy-efficient, it doesn't need one. Even at 7,000 feet above sea level.
The 125 Haus, as it is called, is both a research project and the place where Rügemer and his family live. About five years ago, he set out to design a 2,400 square foot house that's energy-efficient at market-rate costs.
"I have two kids, so I want to provide them…kind of the same environment I grew up in," he said.
Rügemer comes from Germany where sustainable architecture is commonplace. Energy costs much more — 36 cents per kilowatt-hour compared to Utah's 7-8 cents — and the government has been mandating efficiency since the oil crisis of the early 1970s.
But domestic energy prices, he said, are destined to rise. According to the U.S. Energy Information Administration, buildings consume nearly half of all energy and 76 percent of electricity produced in the U.S.
So, Rügemer's trying to lead by example. "This is a case study to teach other people how to do it."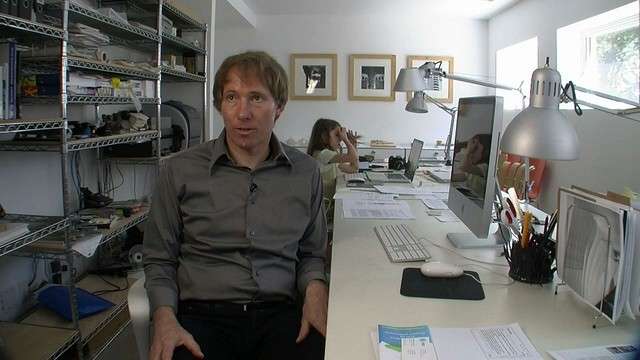 All the data is not in, but in theory, the 125 Haus uses about 10 percent of the energy of a home in the same price range and neighborhood.
It does that not with high technology, but with passive design.
The house faces south to soak up the sun's rays. It uses lots of insulation — the walls have 15 inches of insulation, where a typical home has just six inches. The windows are expensive, high-performance units from California and Canada, and he spent $38,000 dollars on windows, alone. It is air-tight, so heat doesn't escape through cracks and crevices.
And where another house might have a furnace, there is a heat-recovery ventilator. It draws fresh air in, pushes old air out, but keeps the heat inside the house. An instant hot water heater provides what additional heat is needed.
All that means Rügemer pays an average of just 25 dollars a month to heat and cool his home. At this point, he estimates the home is about 80 percent more efficient than a standard house.
"People who want to build energy efficient usually tell you 'it's too expensive, I can't afford it.' With this one, I can prove that it's not more expensive," Rügemer said.
He paid $120 per square foot to build the home. That compares to $117 per square foot for a standard home, excluding the cost of land, impact fees, and architectural fees. Rügemer figures he'll get that extra money back, in energy savings, in about six years.
"In the end you pay less. Over the lifetime of any person you pay much less and you leave a better environment," Rügemer said as he motioned to his daughter, "for these guys here actually."
×
Photos
Related stories
Most recent Utah stories