Estimated read time: 2-3 minutes
This archived news story is available only for your personal, non-commercial use. Information in the story may be outdated or superseded by additional information. Reading or replaying the story in its archived form does not constitute a republication of the story.
SALT LAKE CITY — New government numbers show teens may be getting the message about preventing pregnancy.
The teen birth rate in the United States has been dropping over the past decade and has now reached a rate of about 34 births per 1,000 women ages 15 to 19. That is the lowest it's been in 70 years.
Utah ranked 36th with a birth rate of 27.9 per 1,000 women ages 15-19.
Nearly every state saw a decline in teen births from 2007 to 2010, with the biggest drop in Arizona at 29 percent. Rates stayed about the same in three states: Montana, North Dakota and West Virginia.
Teen Birth Rate
2009 - 2010: Declined 9 percent to reach a historic low at 34.3
1991- 2010: Dropped 44 percent
2010: Fewer babies were born to teenagers than in any year since 1946
The decline was seen among all racial and ethnic groups.
The National Center for Health Statistics say the decline is due in part to programs preventing teen pregnancy, and a decline in fertility among most age groups.
Even as it leads the nation with 55 teen births per 1,000 girls, Mississippi's rate has been falling like everywhere else. It dropped 21 percent over three years. New Hampshire has the lowest teen birth rate at just under 16.
But the U.S. still has a much higher teen birth rate than other major industrialized countries.
The Centers for Disease Control and Prevention previously reported that U.S. births by mothers of all ages had dropped in 2010 for the third straight year. Experts think the economy is a factor.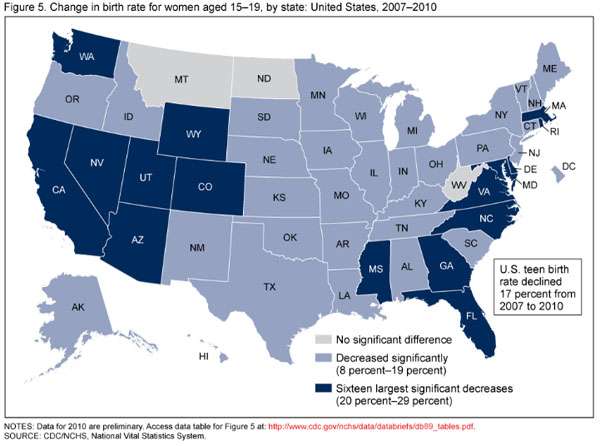 Get a list of all states here.
Teaching about condoms
Another report shows of 45 states surveyed, Utah has the lowest percentage of secondary schools that teach about condoms.
The study from the Centers for Disease Control and Prevention took into account how many schools in each state teach about the effectiveness of condoms, the importance of using condoms consistently and correctly, and how to get condoms.
In 2010, only 11.3 percent of Utah schools taught all of those topics. That's up slightly from 2008. Next lowest was South Dakota at 19.4 percent, then Arizona at 26.1 percent.
Some states with the highest percentages include Delaware at 93.1 percent, New Jersey at 93 percent and New Hampshire with 90.5 percent. Full education on condoms was available at 27 of the states surveyed.
The CDC report revealed in 2010, 83 percent of Utah schools taught how to prevent HIV, sexually transmitted diseases and pregnancy. That number was higher than 34 of the states in the report.
Contributing: The Associated Press
×
Related links
Related stories
Most recent Utah stories