Estimated read time: 2-3 minutes
This archived news story is available only for your personal, non-commercial use. Information in the story may be outdated or superseded by additional information. Reading or replaying the story in its archived form does not constitute a republication of the story.
Richard Piatt Reporting The fight over school vouchers, Referendum 1, was back at the State Capitol today where lawmakers for and against the program restated their positions.
Vouchers are a policy battle, but there are a lot of philosophical and emotional differences in the mix too. Powerful people at the Capitol like it, but according to polls, the public doesn't.
Today both sides held news conferences at the Capitol: the anti-voucher Democrats with the public on their side, and the powerful pro-voucher legislators and governor, who happened to have a better attended gathering.
According to Gov. Jon Huntsman, the news conferences were held to urge voters to research the issue. "We have a very important election on Nov. 6. Become informed, then vote," he said.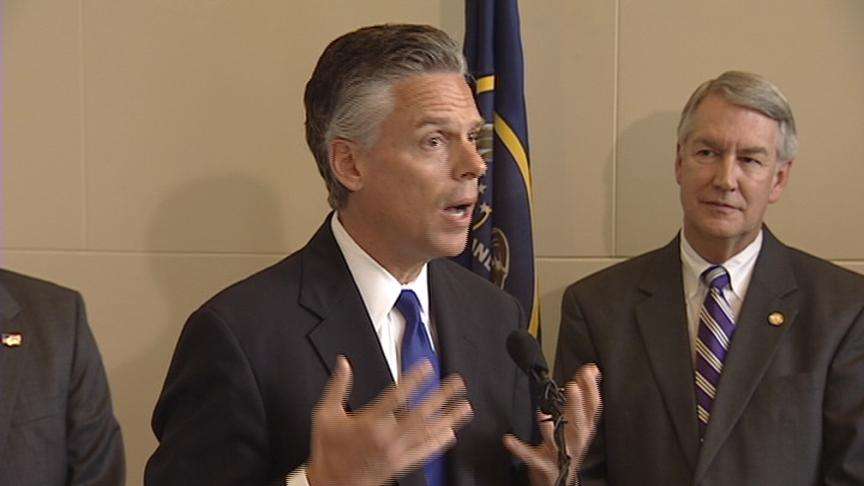 Capitol Hill Democrats have been unanimous in opposition to the voucher idea, calling it a bad law that robs resources from the public school system. "We feel it is completely wrong to look at diverting money that should be going to public education and subsidizing private schools," House Minority Leader Ralph Becker said.
Among the public, there is still some confusion about how to vote, and a flurry of both pro- and anti-voucher ads are adding to the confusion. Lawmakers are also warning of future tax hikes to deal with the thousands of new students flooding the system over the next decade.
"We're going to have to find a place to house 160,000 new students. Do the math. It has to happen," Sen. Sheldon Killpack said.
House Speaker Greg Curtis said, "We're asking the voters to make an informed decision. We will respect their vote, but we're saying this is one tool in the tool box. This is one solution."
Even though the voucher program would be funded out of the general fund, not the uniform school fund, opponents think the money should be devoted to the public system.
And it's not just Democrats saying that. "If we want to help public education, we keep that money going into public education," Republican Rep. Sheryl Allen said.
A lot of voters have not decided how to vote yet. There is a lot of confusion from people, partly due to the ads that are running.
×
Related links
Most recent Utah stories