Estimated read time: 3-4 minutes
This archived news story is available only for your personal, non-commercial use. Information in the story may be outdated or superseded by additional information. Reading or replaying the story in its archived form does not constitute a republication of the story.
AMERICAN FORK — When Sara Kelsch stepped out of shower and looked out the window she knew she and her 3-year-old daughter, McKenna, were in trouble.
"It was all black, and I looked down the hall and my kitchen was up in flames," she said.
They did make it out of the house, thanks to some quick thinking passers-by.
"Thank you from the bottom of my heart. Thank you," she said to her rescuers Tuesday, standing in front of her home that was destroyed in a fast-moving fire near 400 East and 100 North just before noon on Monday.
As panic set in for Sara and her daughter, they didn't realize several people were already there to help; city public works employees were next door making repairs to a water line when they saw flames coming from the house.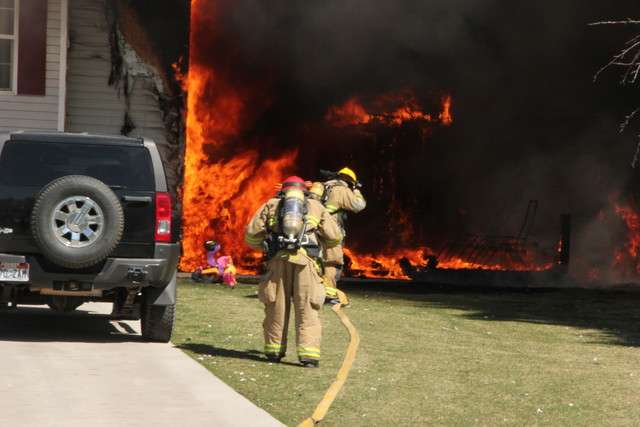 "We could smell smoke and looked up again at the house next door and flames were coming through the roof," John Varney, one of the city workers, said.
Barry Dayton, himself a volunteer firefighter, knew they had to act fast. "You know fire doubles in size every 30-40 seconds, so you know you don't have a lot of time, and so if there is someone in there, you've got to hurry in there and get them," he said.
The men didn't just call 911 and wait. They first found out if someone was inside the burning home.
Brad Frost, a member of the American Fork City Council, knows the family and saw the smoke and flames coming from the house as he was driving by. He also saw a car in the driveway, a sure sign that someone was home.
"We banged hard on doors, windows, sides of the house trying to see if someone would open the door," Frost said, recalling the moments immediately after he stopped to help.
No one answered the door, so as flames engulfed the front of the house, Frost and the others ran to the back and decided to break in.
"I just found a flower pot on the back table, and it looked like it was heavy enough to go through the back window, and it was, and it went through, luckily broke it," said Randall Honey, also on the scene to help.
The four men ran inside, but struggled to breathe because of all of the smoke. That's when they heard a cry for help.
---
"It was an intense four to five minutes; something I don't think any of us will ever forget, but in all honesty, we did what anybody would have done." -Brad Frost, rescuer
---
#frost_q
"When we thought it was too dangerous to be inside, we heard (Sara Kelsch) make a noise," Frost said. The noise was coming from an upstairs bathroom. One of the workers grabbed McKenna. Sara wrapped a towel around herself and everyone got out just in time.
"It was an intense four to five minutes," Frost said. "Something I don't think any of us will ever forget, but in all honesty, we did what anybody would have done."
Sara, who with her daughter is staying with relatives, said she will never forget the men who came to her rescue. "They're my angels," she said. "They did, they saved my life and my daughter's life."
The only injury was to Sara, who stepped in some of the broken glass as she was running from the home.
American Fork Fire Chief Kriss Garcia said the cause of the blaze remained under investigation Tuesday. It appears to have started on the porch, but is not suspicious.
×
Photos
Most recent Utah stories