Estimated read time: 3-4 minutes
This archived news story is available only for your personal, non-commercial use. Information in the story may be outdated or superseded by additional information. Reading or replaying the story in its archived form does not constitute a republication of the story.
OREM — Tiffany Hebb had never considered her washing machine to be a danger.
On laundry days, Hebb and her 21-month-old little helper, Ollie, would take turns tossing clothes into the top-loading washer and then start the cycle.
Ollie would climb up onto a laundry bin next to the washing machine so he could be tall enough to help his mother with the chore.
When the boy went missing for a few minutes the morning of March 23, Hebb checked all his usual hangouts and hideouts inside the family's Hillsboro, Ore., home. When she couldn't find him, she worried that maybe he'd wandered outside.
"I ran through my whole house, calling his name and couldn't find him anywhere," Hebb said, "not ever thinking that he would be in my washer."
---
I knew never to leave him alone in the tub. I never thought about the washing machine (being dangerous). I just want to make mothers and fathers aware that it's a possibility.
–- Tiffany Hebb, mother
---
In the laundry room, the lid to the washer was open, the tub filled with water. She reached in and felt her little boy, wedged tightly inside.
"The worst day of my life," Hebb said Saturday at her parents' home in Orem, sobbing as she recalled the tragedy.
"I couldn't get him out of the washer; he was stuck," she said. "So I pulled his head above the water, and he had no heartbeat, no pulse. He wasn't breathing."
Hebb ran to a neighbor's house to find help. Together with a neighbor, she was able to pull Ollie from the washing machine. Neighbors then began performing CPR.
After about 45 minutes, the boy's heart started beating again; but the lack of oxygen to his brain prevented him from recovering. After 24 hours with Ollie in a hospital on life support, Hebb and her husband, Chris, decided it was time to let their boy go.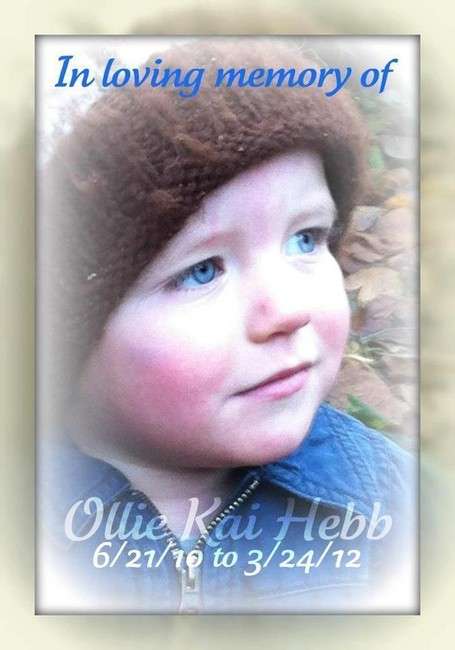 "We just held him, cuddling him for his last moments of life," Tiffany Hebb said. "Six hours later, he took his last breath and passed away."
The Hebbs had recently moved to Oregon, where Chris had started a new job. They were back in Utah this weekend to bury their son at the Orem City Cemetery.
Chris Hebb said love and support from family and friends have sustained them throughout the tragic loss of their first child, Ollie Kai Hebb.
"Every night when I go to sleep, I start feeling sick," he said. "Every time I wake up, I think this is a nightmare and then realize it's real. … You hear a baby crying in the night from a neighbor's house. You wake up, hoping it's your little boy, and then realize he's not there."
"It's hard to think about going our whole life without our little boy," Tiffany Hebb added. "There's just such a void."
Hebb described his son as "a wonderful boy" who, like his parents, loved the outdoors and nature.
"We'd taken him skiing, we took him hiking, took him to the ocean," he said. "We spent as much time outside with him as possible."
"We have a lot of wonderful memories of him," Tiffany Hebb said.
At the hospital, the Hebbs decided to allow Ollie's organs to be donated in the hope that other parents wouldn't have to leave there without their child.
They also want to issue a warning to parents that top- loading washing machines can be dangerous for children.
"Everybody talks about a tub (and the risk of children drowning in them)," said Tiffany Hebb, who's pregnant with the couple's second child. "I knew never to leave him alone in the tub. … I never thought about the washing machine (being dangerous). I just want to make mothers and fathers aware that it's a possibility."
Email:jpage@ksl.com,Email:akewish@ksl.com
×
Photos
Most recent Utah stories