Estimated read time: 2-3 minutes
This archived news story is available only for your personal, non-commercial use. Information in the story may be outdated or superseded by additional information. Reading or replaying the story in its archived form does not constitute a republication of the story.
Tonya Papanikolas Reporting A Salt Lake charter school is testing out a new concept in the state, immersing all students in both English and Spanish. The Dual Immersion Academy just started last month, and the kids are learning languages fast.
The younger kids are, the easier it is for them to learn a new language. This is the first school of its kind in Utah. At the Dual Immersion Academy, half of the kids speak Spanish, the other half English. That mix produces a great balance of children who are learning while helping each other.
The outside of an old strip mall doesn't look much like a school, but the teaching inside is on the cutting edge of Utah education. Every one of the elementary students at the DIA charter school learn in both English and Spanish. Kids in kindergarten through second grade are completely immersed. One day they're learning all in Spanish, the next day all in English.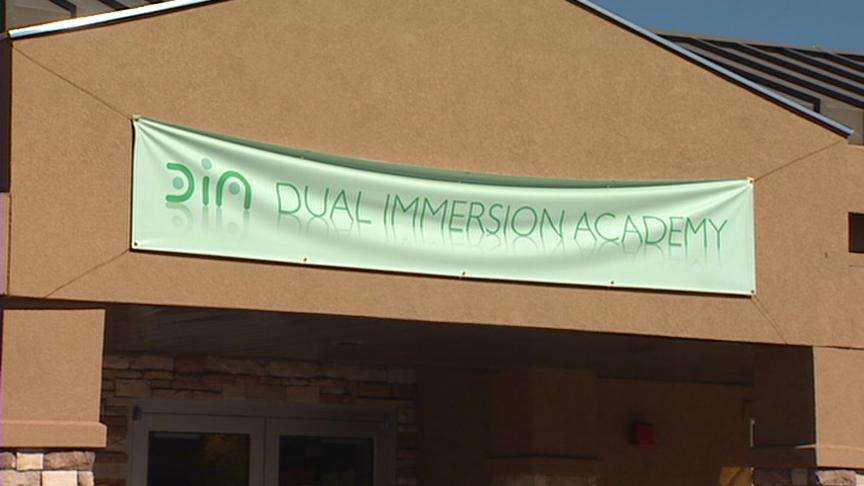 "Usually after being immersed for two or three months, the children start to begin to have some conversational fluency," explained Julia Barrientos, the academy's director.
In third through sixth grades, where it's harder to just jump into immersion, kids spend most of the day in regular classes. Then they break off into Spanish for the last hour and a half, where native Spanish-speakers focus on Spanish reading and writing, and English speakers learn Spanish grammar and vocabulary.
Sixth-grader Ramsi Kefu knows why he came to this school. "So I could learn a new language," he said.
Jamari Chapman, a fifth-grader at the academy, said, "I like learning Spanish."
And sixth-grader Jon Sutton says he thinks it is fun. "I can talk to people that I don't know and maybe get new friends," he said.
Parents also feel their children will be a step ahead. "It's more activities for them to learn: Spanish activities, English activities at the same time," said Rocio Velazquez.
Kelly Gadri said of her daughter, "When she gets out in the world later in life, she'll have more than what someone else has."
The school says it will expand the program as the kids get older until all the children are completely immersed in both languages.
Educators say the program has a lot of benefits, including helping to close the achievement gap for Hispanic students and increasing the likelihood a child will attend college later.
×
Most recent Utah stories