Estimated read time: 3-4 minutes
This archived news story is available only for your personal, non-commercial use. Information in the story may be outdated or superseded by additional information. Reading or replaying the story in its archived form does not constitute a republication of the story.
SALT LAKE CITY — It's a dilemma even federal officials discuss: what to do about avalanches in popular back country locales, especially when people continue to be injured or killed, buried beneath a rush of snow.
Last week, backcountry avalanches left a snowboarder dead in Dutch Canyon near The Canyons Ski Resort; a snowmobiler buried under a pile of snow in Tony Grove, until his friends found him and dug him out; and another man injured with a broken leg on Whiskey Hill, outside of the Monte Cristo trail head.
The answer to the recurring question is perhaps even more confounding to common logic: do nothing, other than to educate and warn.
U.S. Forest Service officials say it's impractical — if not impossible — to conduct avalanche control across millions of acres of federal land, and picking and choosing which spots to treat leaves the federal government liable.
---
We have to be consistent where we apply whatever actions we take. Where people are going to go and how they're going to recreate, it's nearly impossible to anticipate.
–Larry Lucas, U.S. Forest Service
---
#lucas_quote
"We have to be consistent where we apply whatever actions we take," said Larry Lucas, forest recreation and land staff officer with the U.S. Forest Service. "Where people are going to go and how they're going to recreate, it's nearly impossible to anticipate."
Salt Lake City attorney Greg Skordas, who has advised on legal issues involving ski patrols and is a 27-year ski patrol veteran himself — says if federal workers conducted avalanche control in backcountry "hot spots," they would create an expectation that extends far beyond those areas.
If somebody were hurt or killed in an untreated area, or in a spot workers accidentally missed, Skordas said Tuesday, lawsuits could theoretically follow as families of the victims seek damages.
"The Forest Service, unfortunately, has the uncomfortable position of saying, 'We don't know it's safe. In fact, it's probably unsafe. You enter here at your own risk. Be prepared for the worst possible situation, including snowpack which changes hourly,'" Skordas said.
Instead, the federal agency has opted to avoid liability concerns and has instead chosen more achievable objective of education.
"Our role, we feel, is to provide good information to our visitors so they can make a reasonable, rational decision on what's safe for them," Lucas said. "There's an inherent risk associated with visiting the backcountry and people need to know that."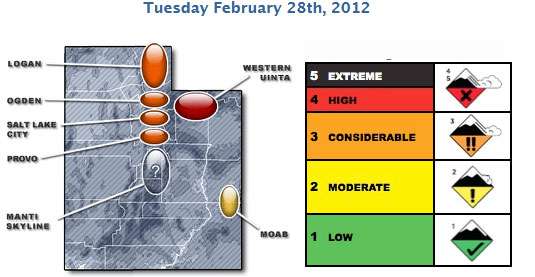 Lucas said the Forest Service helps makes information available through the Utah Avalanche Center, which issues avalanche advisories. It also offers online resources and posts signs in some places warning of the potential dangers.
By contrast, policies involving well-traveled roads and packed ski resorts are very different. Skordas said the average person would be "amazed" by the amount of avalanche control that goes into the operation of any given ski resort. There are paying customers, he said, and the expectation is they'll be safe where they shell out money to ski.
Mountain areas overlooking canyon roads — such as in Big Cottonwood Canyon and Little Cottonwood Canyon — also require a different level of attention.
Tuesday, the Utah Department of Transportation and ski resort crews shut down Little Cottonwood Canyon to take avalanche countermeasures after a fast moving storm dropped fresh, wet inches of snow in the mountains.
"That is our first and foremost priority concern: the safety of everyone up here," said UDOT spokesman Adan Carillo.
Avalanche risk in the backcountry across most of northern and central Utah was expected to remain at elevated or "considerable" levels through midweek, Utah Avalanche Center director Bruce Tremper said. Another storm was projected to dump more snow in the mountains early Thursday.
×
Photos
Related links
Related stories
Most recent Utah stories