Estimated read time: 4-5 minutes
This archived news story is available only for your personal, non-commercial use. Information in the story may be outdated or superseded by additional information. Reading or replaying the story in its archived form does not constitute a republication of the story.
AP Photo/Douglas C. Pizac
Ed Yeates Reporting
The international spotlight fell on Utah in a big way Monday! A University of Utah researcher was awakened in the wee hours of the morning by a phone call from Stockholm, Sweden, announcing he had won the Nobel Prize.
The university turned on the flashing lights of the "U" on the hillside Monday night. It is the first time the U has been lit for an academic victory rather than a sports victory.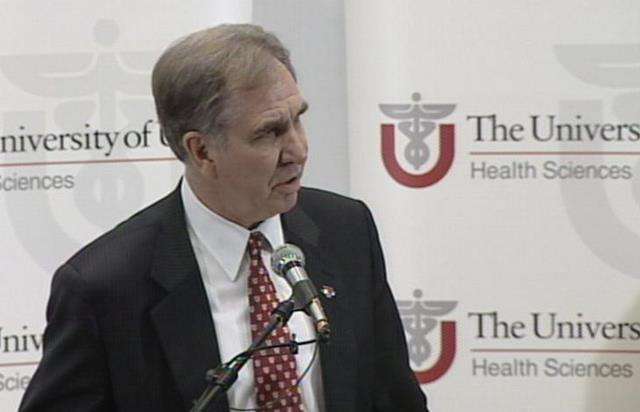 Earlier, a proud University of Utah president, along with an overflowing community of scientists and friends, gave Dr. Mario Capecchi a standing ovation following the announcement that he had won the Nobel Prize. "His gene targeting truly has changed the course of medical research," University of Utah President Michael Young said.
Capecchi's work in developing a mouse model that's now used in hundreds of labs around the world is what singled him out for this honor.
At his home early this morning, the call came through from a spokesman for the Nobel Assembly, and it wasn't long after that Dr. Capecchi was fielding calls from the international press. "It's a marvelous surprise. It's not only a great honor for our lab, but the university and our department," Capecchi said.
Unassuming and gracious, as always, Capecchi thanked his colleagues today, including two others he shares this award with: Oliver Smithies, 82, a native of Britain now at University of North Carolina in Chapel Hill, and Sir Martin J. Evans, 66, of Cardiff University in Wales.
Capecchi is a pioneer who really revolutionized genetic research by creating the perfect mouse model, a premier mouse that can be programmed to take on a specific disease. Then the genes in that mouse can be altered, or modified and studied, and treated with things that just might turn the disease around.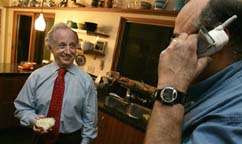 Diabetes, cystic fibrosis, heart and neuropsychiatric diseases, even just the physiology of how the brain works, to name a few. Plus cancer.
"We can create that mutation in a mouse and thereby create that exact cancer in a mouse, then study its pathology in great detail. Then we can also use it as a vehicle for therapies," he said.
His mouse models are perhaps the best cared-for mice in the world with excellent diets and controlled environments. Cages are cleaned twice a day. They're raised in pristine conditions so research is accurate.
"In terms of our gene content, mouse and human are 99.9 percent the same. So whatever we learn in the mouse is going to be directly applicable to the human," Capecchi explained.
In addition to the grand announcement at the Eccles Human Genetics Lab, his associates threw a party for him this afternoon. But, the real celebration comes in December when he travels abroad for a week-long tribute, the presentation of the medal, and a cash prize of $1.5 million, split among the three recipients.
Meanwhile, Gov. Jon Huntsman honored Capecchi today by issuing a statement.
The statement read, "The determination and persistence of Dr. Mario Capecchi and his colleagues has led to a more comprehensive understanding of human genes as they relate to diseases. The method pioneered by Dr. Capecchi has been used by thousands of scientists, furthering the progress in gene research exponentially. The Nobel Prize is a tremendous recognition of the work accomplished by Dr. Capecchi and the Department of Genetics at the University of Utah. All Utahns share a deep sense of pride and honor in this extraordinary accomplishment."
Dr. Capecchi has come a long way from his native Italy. His mother was a writer and poet there who took up the pen against the Nazis. The Gestapo took her away. Money left behind for others to take care of Mario ran out , and he was abandoned on the streets at only 3 years of age.
"I was on the street until 1946. My mother fortunately survived Dachau, and she took about a year and a half to retrace my steps and found me. Then we came to the United States," Capecchi said.
And glad they did, his colleagues say. His tenacious will to survive, to keep searching and hoping, shows up even now in his labs.
The medicine prize was the first of the six prestigious awards to be announced this year. The others are chemistry, physics, literature, peace and economics.
The prizes are handed out every year on December 10, the anniversary of award founder Alfred Nobel's death in 1896.
(The Associated Press contributed to this article.)
×
Related links
Most recent Utah stories