Estimated read time: 2-3 minutes
This archived news story is available only for your personal, non-commercial use. Information in the story may be outdated or superseded by additional information. Reading or replaying the story in its archived form does not constitute a republication of the story.
Alex Cabrero ReportingThe mountains of Utah were full of gunfire all day today; not to worry, though, it's just the first day of the elk hunting season.
Poaching has become a serious problem in Utah. Investigators deal with some 1,600 cases a year. Today, with the first day of the elk season, officers were looking for those taking the "sport" out of the game.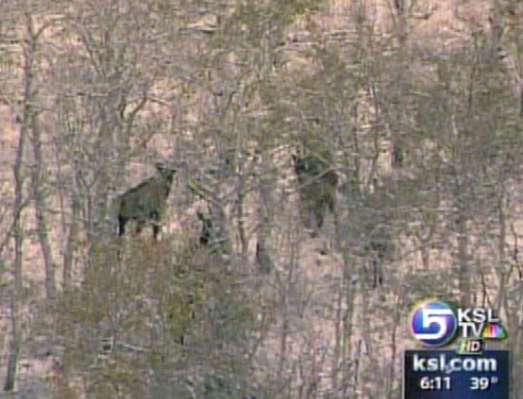 Along for the ride, we saw a six-point bull that many hunters would've considered a good kill. But because hunters can only go after spikes in the Strawberry Reservoir area right now, shooting that elk is illegal.
Sergeant Tony Wood works with the Division of Wildlife Resources, and along with other officers, spent all day looking for illegal kills, or poachers.
Sgt.Wood said, "Wildlife is the property of the people of the state of Utah, not just the people of Utah today, but the people of the state of Utah tomorrow."
In one case, the hunter realized he shot the wrong type of elk and turned himself in. Even so, officers had to do a field investigation, which includes digging for the bullet.
Sgt. Paul Davis said, "Because he did turn himself in, he'll probably receive a misdemeanor citation. He may have to pay a mall fine. He won't lose his hunting privileges, he won't lose his gun. He'll be able to hunt next year, like I said."
If the hunter didn't turn himself in and were caught, he'd faces an $8,000 fine, jail time and losing his hunting license, so he did the right thing.
"I applaud him for doing that," Sgt. Wood said.
The DWR says cases like this one, where someone who did something wrong and turns himself in are very rare. Most of the time they're relying on the public and other hunters to report someone they see who is doing something wrong.
Sgt. Wood says, "I would say conservatively, 60-70 percent of our investigations are the result of tips we receive from the public."
And with trophy elk roaming the mountains, as well as good-looking moose, the temptation to do something wrong is always there, which is why the DWR takes poaching seriously. Otherwise, future hunters or even wildlife photographers might not have anything to go after.
Hunter Neil Clegg said, "They take advantage or they shoot whatever they see, and that's just not right."
"We need to make sure the elk running around on these mountains today are here for future generations to enjoy," Sgt. Wood said.
There are only a certain number of tags available to hunt elk, which helps control their numbers. Not following the rules affects those numbers, making the management of them for the future very difficult.
×
Most recent Utah stories