Estimated read time: 3-4 minutes
This archived news story is available only for your personal, non-commercial use. Information in the story may be outdated or superseded by additional information. Reading or replaying the story in its archived form does not constitute a republication of the story.
PRICE — A hint of a smile brightened Kristine Axe's face briefly when she was asked Saturday how long she knew her husband, Brian, before they married four years ago.
"We had an instant connection and we felt very strongly about each other," she said, acknowledging that they hadn't known each other long.
"We knew what we were doing was right," she added.
Brian Axe and his longtime friend Mark Widegren have been missing since Jan. 28. The two men from Grand Junction, Colo., left their jobsite in Nine Mile Canyon near Price — where they work for a company building a natural-gas pipeline — and headed out for dinner.
Have you seen them?
Mark Widegren and Brian Axe
Last seen at Silver Dollar Steakhouse in Price on Jan. 28 around 11:30 p.m. Left in a gold-colored Jeep Grand Cherokee. Anyone with information should call the Carbon County Sheriff's Office at 435-636-3251. The families of the two have created a Fa ce book page, with updates and information.
Axe and Widegren, both 28, ate at Winger's Bar & Grill in Price, then went up the road a few miles to the Silver Dollar Sports Club. They had a few more drinks while they watched a game, leaving the club about 11:30 p.m. in a gold-color Jeep Grand Cherokee.
No one has seen or heard from them since. There's been no activity on their bank accounts. Efforts to "ping" their cellphones have also proved unsuccessful.
But Friday night, Carbon County sheriff's deputies and Emery Telecom crews were able to identify a cell tower in Price that had been in constant contact with the men's cellphones for three hours after they left the club. Officials believe the connection ended when the batteries died in the phones or they were shut off, because none of the other cell towers in the area picked up the men's phones.
"That focused us on an area that is southeast of Price, toward the Nine Mile Canyon area," deputy Wally Hendricks said Saturday. "We focused a pretty good search effort there today."
A Civil Air Patrol plane flew several searches over the rugged landscape before noon. People on foot and ATVs also wound through the maze of oil-field roads and pinyon- juniper tree searching for the men or their vehicle.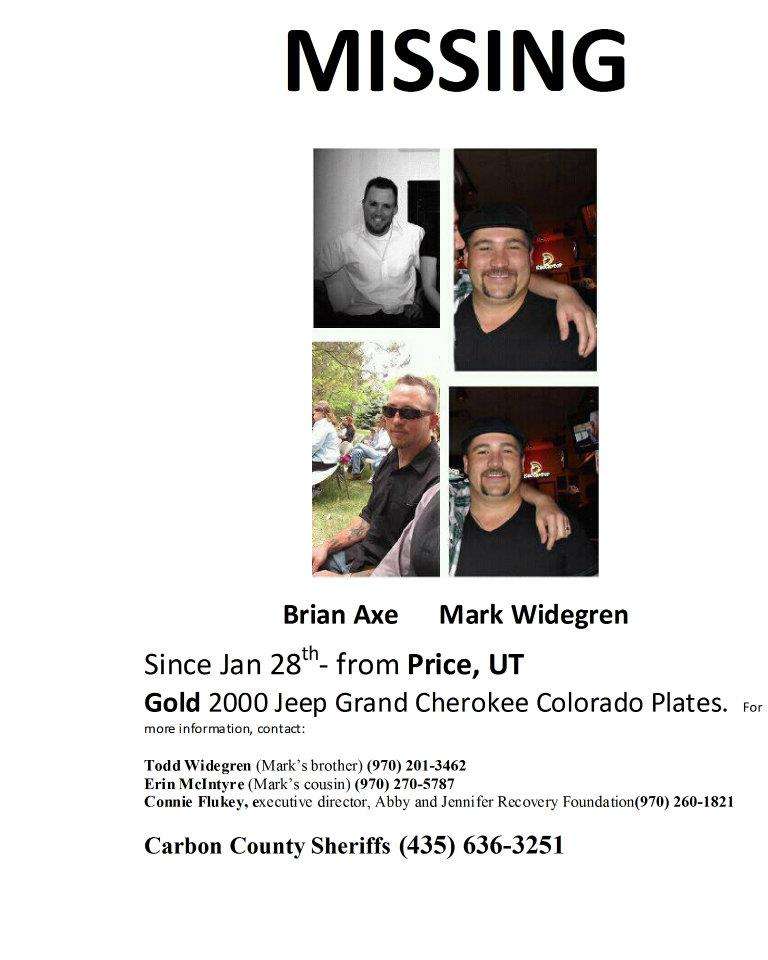 Despite the lead and the effort, they turned up no trace of Axe and Widegren.
"We're going to stay involved in this (search) until we have evidence to tell us to stop," Hendricks said.
Relatives and friends of the two men are in Price, as are search volunteers from the Grand Junction-based nonprofit group the Abby and Jennifer Recovery Foundation. They set up a command post in a conference room at the Holiday Inn, where donations of food, water and supplies continue to pour in.
The display of support and generosity is overwhelming, said Kristine Axe.
"It's such a big gesture that everyone has donated their time, their money, their family members, food, water," she said. "It's above and beyond what I ever could have expected."
Axe and Widegren are physically strong, family members said, and if one of the men was injured, the other would carry him out.
"Both of them are a great team, no matter what they're doing," Kristine Axe said. "I know that they can rely on each other, and that offers comfort to me and the rest of the family that they're not out there alone."
Anyone with information about Widegren and Axe should call the Carbon County Sheriff's Office at 435-636-3251.
Email:gliesik@ksl.com
×
Photos