Estimated read time: 4-5 minutes
This archived news story is available only for your personal, non-commercial use. Information in the story may be outdated or superseded by additional information. Reading or replaying the story in its archived form does not constitute a republication of the story.
ELDORADO, Texas — An unusual building is under construction on the FLDS compound in Eldorado, Texas.
Photos obtained by locals indicate its purpose may be to house a large statue of the church's leader, Warren Jeffs, who is currently serving a life sentence for raping two underage girls.
The structure
Judge Jimmy Doyle has used his aircraft for years to keep an eye on the YFZ Ranch. He goes airborne every few weeks on a photo mission.
Over the years, Judge Doyle and his son have seen many building projects — but nothing like the new one going up.
"(It's) very unusual, and expensive," Doyle said. "They've spent a lot of money."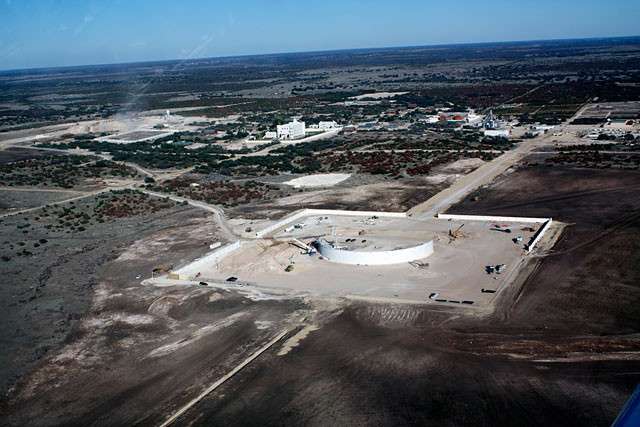 It's a semi-circle of poured concrete with walls that stand 30 feet high.
"We don't know what that is and, as with anyone else, we cannot explain what that is," Doyle said.
The terraced floor suggests an auditorium or conference center. The Eldorado Success newspaper recently measured it with Google Earth: On one side it's 289 feet, almost as long as a football field.
The large dimensions are presumably because Warren Jeffs wanted it stadium-sized. "I think he calls the shots on everything, even though he's locked up," Doyle said.
Some outsiders suspect the building is a new FLDS Temple to replace the one less than a mile away which was supposedly desecrated when Texas Rangers seized evidence against Jeffs in 2008.
The construction work has mysterious elements. Thousands of tubes curling from the top may be a cooling system, but experts KSL News consulted have never seen one like it.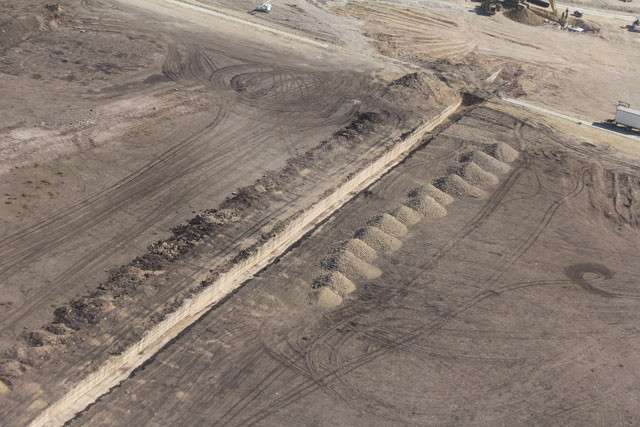 A bigger mystery is an apparent drainage system. Before they put up the building, FLDS workers excavated a trench in solid rock and buried two pipes, roughly 48 inches in diameter. They encircle the building and run, side by side, hundreds of yards to the west.
Experts are puzzled. In such a dry climate it seems inconceivable such a huge volume of drainage would ever be needed.
It's presumed the building will eventually have a roof and terraced seating.
The statue
An anti-polygamy activist, who asked for anonymity, believes the focal point of the building is where the long-rumored statue of Warren Jeffs will go.
"I think it's been delivered and it's being stored in their temple, which they say is desecrated and they no longer use," the activist said.
KSL traced the rumors to their origin. Texas businessman Michael Biggerstaff is one of the most prominent home builders in the region. For years he hired hundreds of FLDS workers. But he stopped hiring them last summer because he was shocked by the evidence against Warren Jeffs.
Last year, Biggerstaff claims one of the FLDS teenagers, who calls him "uncle," an FLDS term of respect, revealed a secret.
Related:
"He just made a comment to me one day. He just said, 'Uncle Mike, they're building a statue of Uncle Warren,'" Biggerstaff said.
Later, he said, the FLDS youth sent him an image of a 30- foot statue: a tall man and a child evidently wearing a prairie dress, drawn on the back of a religious text. A mirror image reveals the text is about Cyrus of Persia.
Biggerstaff says the teen kept him informed about the statue.
"The frame was built in San Angelo," he said. "(It) was then transported to Utah. … The skin, if you will, was to be applied there, and then later was to be returned back to Texas."
If the story is true, the statue arrived back at the YFZ Ranch the night of Nov. 29. Biggerstaff says the youth informed him it was en route from Utah, on a truck, in three wooden shipping crates.
"The truck was seen by a gentleman in Eldorado, Texas, I've been told," Biggerstaff said.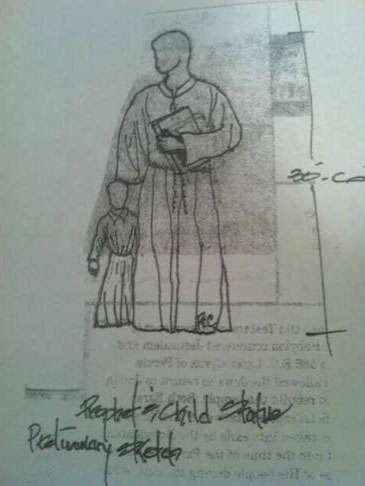 The next morning, a photographer for the Eldorado Success flew over the FLDS Temple. Photos show a heavy-duty forklift with unpacked wooden crates at the top of the temple stairs.
"I was informed by this young man that it did come in, in the middle of the night," Biggerstaff said.
Presumably, a prominent businessman wouldn't make up such a story, but what about the FLDS teenager?
"This young man would not lie to me," Biggerstaff said.
"I think that it's just totally repulsive that Warren Jeffs would be standing there with a small child who, from what I can see on the statue, resembles the 12-year-old child that he raped in the temple," the anti-FLDS activist said.
"There's no doubt in my mind that if this young man tells me it exists, it exists," Biggerstaff said.
As of right now, we don't really know if there is a statue. Biggerstaff first told that story to Colorado freelance reporter Carol McKinley, and he said he refused interviews with two networks, including Oprah's.
KSL News has tried to get FLDS leaders to speak to us, as usual, without success.
×
Photos
Related links
Most recent Utah stories