Estimated read time: 2-3 minutes
This archived news story is available only for your personal, non-commercial use. Information in the story may be outdated or superseded by additional information. Reading or replaying the story in its archived form does not constitute a republication of the story.
Tonya Papanikolas Reporting Hill Air Force Base airmen returned home tonight from Iraq to a big reunion full of hugs and lots of applause. The 53 airmen are from 75th Security Forces. They came home on two flights at the Salt Lake International Airport.
They've had some pretty intense assignments over the past nine months, but tonight was all about family members welcoming their airmen home. There was a band playing, family members held balloons, and everybody anxiously awaited that exciting moment when these airmen walked down the escalator.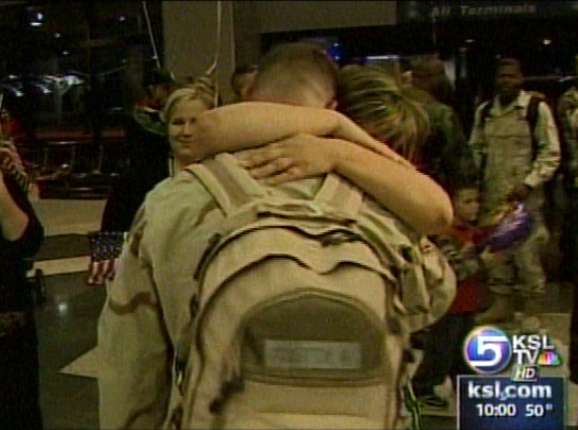 The airmen say it's very hard to put that moment when they first saw their families into words.
Airman 1st Class Justin Versch said, "It was the best feeling I've ever had. I'm just happy to be home."
Jessica Pritchett, the friend of an airman, said, "It was awesome. I feel like 10,000 bricks have been lifted off my shoulders. It's been wonderful. I'm going to call his mom right now and tell her that her baby boy's back."
Senior Airman Caleb Hampton said, "When you leave for so long and you come back, everything's changed, everything's different, everything's new. So I'm ready to go get some Taco Bell."
Everybody had different things that they were looking forward to doing, but all of them included spending time with family members. These 53 airmen have been gone since the beginning of January.
They're all with the 75th Security Forces, and their main job was guarding prison detainees, some of whom are known terrorists. The commander of Hill's 75th Air Base Wing says it was a very dangerous job they wouldn't normally do, but they received extra training just to be there.
"You're right next door, actually babysitting, to a certain extent, all of the most undesirable people in Iraq. This is not the nicest environment nor with the best, necessarily, of inmates. Not like the prisons we have in the United States," Master Sgt. Robert Loughmiller said.
It started out as a four-month deployment but turned into a nine-month deployment. Tonight, though, everybody was just happy that every single one of the members from their squadron came home safely.
One note of interest: An airman told us this group's relief going into Iraq was actually Army National Guard soldiers from Salt Lake City. So while we get a group of Utah airmen home, there's another group of Utah soldiers going to Iraq.
×
Most recent Utah stories