Estimated read time: 5-6 minutes
This archived news story is available only for your personal, non-commercial use. Information in the story may be outdated or superseded by additional information. Reading or replaying the story in its archived form does not constitute a republication of the story.
SALT LAKE CITY — "Shred in peace."
"Your new adventure will offer endless pillows to slay."
"Hope there's powder in heaven waiting for you."
Messages like these fill the Facebook page of Alecsander Luke Barton, painting a picture of an avid outdoorsman and thrill-seeker whose spirited life and good-natured personality earned him the respect and admiration of those who crossed his path.
"Whatever he was doing, he wanted to do it the best that he could," friend Ray Kimber said. "Because he had such gigantic capability, both intellectually and physically, it was usually done at a high level."
Barton's life was cut short Saturday when he was caught in an avalanche in the Mineral Falls area of Big Cottonwood Canyon. The University of Utah student was on a snowboard when he triggered a 700-foot-wide slide that carried him nearly a half-mile down the mountain and buried him under 3 feet of debris.
"I couldn't any more control his spirit than I could control the wind," said his father, Bernie Barton, in a telephone interview from his home in Concord, Mich. "The mountains just needed him more than we did, and they took him."
---
He knew the risk and the reward. He was jonesing for the winter to come and probably saved their lives.
–- Bernie Barton
---
Two friends tackling the backcountry with Barton that morning were able to locate him using avalanche beacons. But the rescue attempt became a recovery effort and Barton's body was flown off the mountain.
Alecs' father says his son more than likely wanted to be the first down the mountain to test the safety of the snow.
"When I read on Facebook postings that he was reckless, he wasn't," the elder Barton said. "He wasn't. He knew the risk and the reward. He was jonesing for the winter to come and probably saved their lives."
Friends say Barton, who would have celebrated his 25th birthday on Monday, crammed a lifetime of adventure into his 24 years and 363 days.
Kimber said he was "absolutely shocked and stunned" when he learned of his friend's death.
"You don't think that anyone who lives such a good life could be taken like that," he said.
Barton loved just about any outdoor activity, Kimber said, whether it was skiing, snowboarding, mountain biking, rock climbing or disc golf. Though many of the activities he enjoyed were dangerous, Barton was experienced, careful and always aware of potential risks, Kimber said.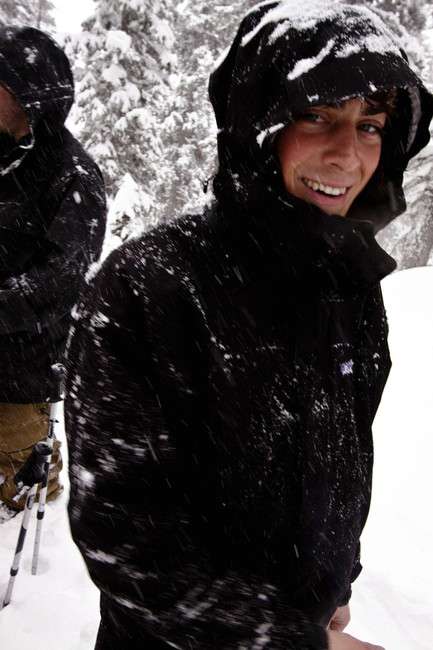 "While he was doing sports that are viewed to be risky, he was very cautious about how he was doing it," he said.
Barton was familiar with the terrain in Big Cottonwood Canyon and made a habit of knowing snow conditions before embarking on his adventures, Kimber said.
The young avalanche victim fell in love with Utah's mountains while a young boy accompanying his father on business trips to Utah.
Bernie Barton said he often took his son with him for his job at a health information systems company in Murray and they'd spend off-time on the slopes.
"We'd come out for a couple of weeks and ski or snowboard. He's loved it from the age of 5 when I pushed him down a hill to when he took my skis up a hill, saying hurry up dad."
That winter excursion at Solitude had the dutiful father huffing and puffing on a 90-minute climb to get to fresh powder. He said his son reveled in the unspoiled, untouched places of Utah's scenery.
"He wanted us to cut the first tracks in the snow."
When his son was still in high school, Bernie Barton promised Alecs that if he made good grades he'd have his pick of colleges to attend. He thought his son would opt for a school closer to home — such as Michigan State — but with earnest conviction he announced the University of Utah as his choice.
"He wanted to be a Ute."
Father and sister, Abbe, packed him up and made the long drive to Utah, settling him into an apartment.
"We cried for 28 and a half hours of the 29 hours it took to get home."
Over the weekend, Utah Avalanche Center had classified the avalanche danger as "considerable."
Center officials recently triggered an avalanche in the Western Unitas and posted a video of the slide online to demonstrate the dangers of current conditions.
In the video, Trent Meisenheimer with the Utah Avalanche Center explains how heavy snowpack has accumulated atop "very weak, sugary snow."
---
He just has that one last mountain to climb, and I know the silence he's hearing is the wind telling him, 'Go for it, dude.'
–- Bernie Barton, father
---
"This is what's leading to very deceptively tricky avalanche conditions," Meisenheimer said. Slopes can easily collapse — even from a few hundred feet away, he said.
Though Barton was a thrill-seeker, he wasn't reckless, friends and family said.
"He was a very skilled snowboarder and skier," said Alexandra Parvaz, another friend. "He definitely was aware of the risks. … Life in itself is a great risk. He didn't want that to stop him."
Parvaz said she got to know Barton through the University of Utah's Office of Sustainability. Barton championed social and environmental justice issues, she said, and a report he wrote about a new composting initiative at the school led to the creation of a paid, part-time position of compost manager at the university.
"He just had a very galvanizing love for life and wanted to be in the thick of it and to address these complex challenges we're faced with and to do something about it," Parvaz said.
Barton's father, Bernie, posted a message to family and friends on his son's Facebook page, saying Alecs "died like he lived — with passion, respect and full tilt."
"He just has that one last mountain to climb," the message states, "and I know the silence he's hearing is the wind telling him, 'Go for it, dude.'"
Email: jpage@ksl.com, Email:aodonoghue@ksl.com
×
Photos
Related links
Related stories
Most recent Utah stories