Estimated read time: 2-3 minutes
This archived news story is available only for your personal, non-commercial use. Information in the story may be outdated or superseded by additional information. Reading or replaying the story in its archived form does not constitute a republication of the story.
Ed Yeates ReportingStudent volunteers in Utah are breathing pollution mixed in a special chamber, to see what happens inside their bodies.
The BYU experiment coincides with a study released by Duke researchers. It shows one ingredient in pollution shuts down the immune system's first line of defense.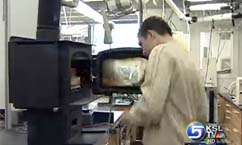 Brigham Young University's Roman Kuprov ignites a fire in a stove downstairs to stoke up a recipe that's being carefully churned in a unique lab upstairs.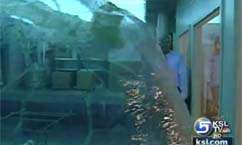 Inside a huge teflon bag, researchers are actually mixing up a concentration of pollution, the same kind of pollution you might breathe during a summer inversion.
According to Dr. Jaron Hansen of the BYU Department of Biochemistry, it's "Eighty percent nitrogen, 20 percent oxygen, and then various concentrations of CO, CO2, NO, NO2, and ozone."
Like a fine wine you wait for until it's time, this batch of pollution is aged, seasoned, then carefully monitored for the right consistency. Ozone is naturally created, as well, from U.V. lights penetrating the bag.
"Typically the CO ranges from about 10 parts per million, lower than that. The ozone will get up to about 80 parts per billion," Hansen said.
After hours of preparation, student volunteers enter another room. They use finger sensors, a blood pressure cuff and another special instrument.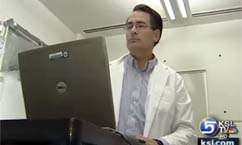 Pioneer pollution researcher Dr. Arden Pope watches for biological responses as they breathe the polluted air circulated through vents from the chamber above, for three hours at a session.
Though the study is just beginning, in theory, BYU teams expect to see some pronounced changes.
Dr. Pope said, "Breathing air pollution increases pulmonary inflammation, increases systematic inflammation and then impacts the function of our arteries."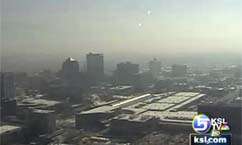 Inflammation -- long-term -- linked to cardiovascular and lung diseases, perhaps even aggravating arthritis?
In yet another study released this week by Duke Medical Center, ozone in pollution caused the immune system in mice to overreact, killing key defense cells. Sobering? Researchers think so!
Duke researchers say once those immune cells have been compromised, the body is more vulnerable to invaders like bacteria.
×
Most recent Utah stories