Estimated read time: 4-5 minutes
This archived news story is available only for your personal, non-commercial use. Information in the story may be outdated or superseded by additional information. Reading or replaying the story in its archived form does not constitute a republication of the story.
Whit Johnson ReportingTwo convicted killers on the run for nearly a week are back in police custody. One is in jail, the other in the hospital after a deputy shot him.
The escapees from the Daggett County jail were captured in Wyoming Saturday night following a high-speed chase and gunfire.
Juan Carlos Diaz-Arevalo, 27, is still at the Sweetwater County jail in Rock Springs, Wyoming. He'll have an extradition hearing either Monday or Tuesday. Danny Gallegos, 49, remains at University Hospital in Salt Lake City in critical condition. He is under the watch of two armed guards.
Freedom for Gallegos and Diaz-Arevalo came to an end alongside Interstate 80 near Rock Springs, Wyoming. Local, state and federal agencies had been searching for the men all week, but had very few, if any, leads as to where they were or where they were headed.
Now we know that although they'd been on the run for many days, Gallegos and Diaz-Arevalo never got very far from the Daggett County jail. Details about what they did between their escape and capture are coming slowly because the inmates aren't cooperating with authorities.
But the big break came Saturday night, when they stole an SUV from a retired police officer.
Sheriff Richard Haskell of the Sweetwater County, Wyo. Sheriff's Office said, "These two individuals, as you are all aware of, are very dangerous."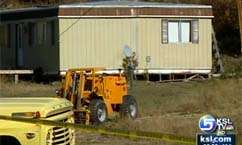 The men hadn't been seen since their escape last Sunday. But according to the U.S. Marshal's office, some time Saturday they came upon a vacant double-wide trailer, located only a few miles from the jail.
They kept an eye on a 79-year-old man in a small trailer a few hundred feet away. Then Saturday night around 7:30 the man, a retired Salt Lake police officer, left for a short time, and the inmates made their move.
Michael Wingert, deputy U.S. Marshal in the Salt Lake district, said, "On the back side of that little trailer they broke a window out that he couldn't see when he drove up. They gained access to his trailer. He comes back, unlocks the door, walks in and they're waiting for him."
They held a knife to the man's throat, tied his feet and hands to a bed with duct tape, and then stole his SUV.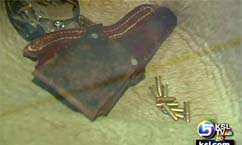 "They jump into his car, and there's the rifle and two handguns. So I'm sure they thought they had struck it rich," Wingert said.
Around 9:30, the man was able to get out of the trailer and get to the road.
"It took him an hour to loosen himself from the duct tape bonds," Det. Dick Blust of the Sweetwater County, Wyo. Sheriff's office said Sunday night. "Had he not had that kind of courage, toughness and willpower, he'd have laid there for hours and hours and hours and given them more time."
A young couple just happened to be driving through the remote area.
"They see him in the road. He's motioning and jumping around while wrapped in duct tape," Wingert explained.
They picked him up, drove into cell phone range and called 911. Only minutes later, authorities spotted the SUV in Green River, Wyoming.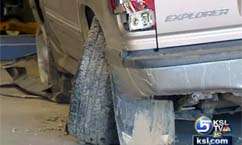 Gallegos and Diaz-Arevalo realized they were being followed and sped off, leading authorities on a high-speed chase. Eleven miles east on I-80 officers were able to spike their tires near Rock Springs.
Blust said, "Diaz-Arevalo, who was driving, emerged from the driver's door armed with a handgun. Gallegos emerged from the passenger side armed with a rifle."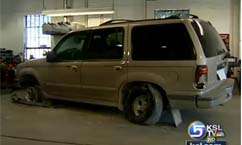 Gallegos made a sudden movement, and a deputy shot him once in the pelvic area. When he fell to the ground, Diaz-Arevalo took off on foot, but he was unable to outrun authorities.
"No one [besides Gallegos] was hurt. The officers from many agencies did an outstanding job," Haskell said of last night's incident.
The search for Danny Gallegos and Juan Diaz-Arevalo began a week ago. Last Sunday they escaped from the Daggett County Jail by slipping through a door, scaling a 12-foot high fence onto a roof and jumping to freedom.
On Monday, authorities searched from the air and ground for the fugitives in Daggett and Uintah counties. On Thursday, a Vernal man who said the two had asked him for a ride admitted he lied. Sheriff's officials announced Friday the deputy in charge of the jail at the time of the escape had resigned. They also said the fugitives had been planning their escape for months.
Then late last night the two were caught near Rock Springs.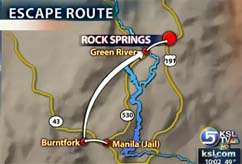 As we mentioned, the inmates stayed quite close to the Daggett County jail in the days after their escape. The jail is in Manila. The location of the two trailers was west of there within 10 miles or so.
Once they took the vehicle, the inmates drove about 50 miles north to Green River, where they were spotted at a pizza restaurant.
The chase, in which speeds reached more than 100 miles per hour, ended at milepost 102 on I-80, just on the west side of Rock Springs.
The pair had been sent to the Dagget County jail, 120 miles east of Salt Lake City, over the summer because of a lack of room in the state prison. Diaz-Arevalo was convicted of murder and child abuse in 2006. Gallegos was convicted of aggravated murder in 1991.
(The Associated Press contributed to this report)
×
Related links
Most recent Utah stories