Estimated read time: 8-9 minutes
This archived news story is available only for your personal, non-commercial use. Information in the story may be outdated or superseded by additional information. Reading or replaying the story in its archived form does not constitute a republication of the story.
OGDEN — Remembering him as a man who was devoted to his family, his job and the Dallas Cowboys, friends, family members and hundreds of law enforcement officers from across Utah and the U.S. said goodbye Wednesday to Ogden police officer Jared Francom.
An estimated 4,000 people attended the funeral at the Dee Events Center for Francom, who was killed in the line of duty. He was shot while serving a search warrant with the Weber-Morgan Narcotics Strike Force on Jan. 4 and died early the next morning.
Injured officers attend funeral
Among those attending was Ogden police officer Shawn Grogan, who was one of the five officers also wounded in the shootout that killed Francom. Grogan was released from McKay-Dee Hospital Center Wednesday morning. He was brought to the funeral in an ambulance.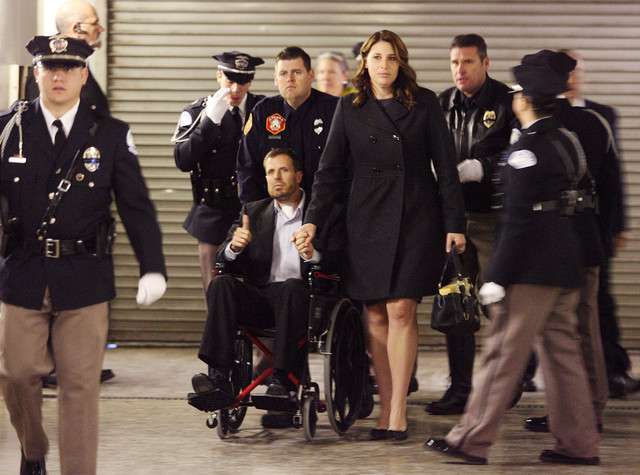 "Thank you for your love and prayers. Please allow me this critical time to heal," he said in a tweet.
Ogden police officers Kasey Burrell and Michael Rounkles remained hospitalized Wednesday in fair condition and were unable to attend.
Before the funeral began, however, police officers seated on the main floor of the arena could be seen passing an iPad around. Ogden police officer Michael Rounkles reportedly watched the funeral from his hospital room with his own iPad. Hospital spokesman Chris Dallin, while not confirming whether Rounkles was able to watch the proceedings on an iPad, noted, "We made every attempt to get the information to the patients. We were trying to link that up."
Service honors Francom's life
Family members recalled Francom's love of being an officer, how he was an adrenaline junkie who loved skydiving, motorcycles and ATVs, how he was a die-hard Dallas Cowboys fan, and how he was completely devoted to his two young daughters.
"He may have been big tough man, but he was also a sweet and tender man, more than any man I've ever seen," said his brother Ben Francom.
One of the most touching moments of the ceremony came when his brother Travis Francom recalled a letter Jared had written to him while he was at the Missionary Training Center in Provo. Wednesday, Travis read an open letter to his brother that was written like the one he had received years earlier. In it, he tells his brother to have fun — but not too much fun without him — told him to just ask if he needs anything, and ended it by saying, "I love you, Jared, and miss you so much."
"My brother is my hero and I love him with all of my heart," Travis Francom said.
He recalled how his brother was his best friend and how he taught him to live life to the fullest.
---
He may have been big tough man, but he was also a sweet and tender man, more than any man I've ever seen.
–Ben Francom, brother of Jared Francom
---
"And now he taught me how to be selfless by laying down his own life for what he loved," Travis Francom said.
A common theme that many talked about during the ceremony was the idea that families could be together forever in the afterlife.
"I'm going to miss my brother, but I know it's only going to be for a short time," his brother Gunner Francom said. "Our family can and will be together forever. ... Now we all have to live up to Jared's standards. We have to try and get back to live with him."
"My whole family knows what we need to do to see him again," echoed his brother Ben Francom. "I know my brother is here watching over us. Jared really loved what he did. He loved all of you."
Two of Francom's coworkers on the strike force recalled how devoted of an officer Francom was, but described how he was also known to crack jokes to lighten the mood.
"The Ogden City Police Department has lost a dedicated officer and the strike force has lost a courageous agent, and we've all lost a brother and a friend," said Ogden police officer Troy Burnett.
Both friends and coworkers recalled several of Francom's many humorous moments, such as the time when he was driving to work on his first day with the Ogden Police Department and was pulled over by his boss for speeding.
They recalled that when he was trying to grow his hair long for the drug strike force, he earned the nickname "Peppermint Patty."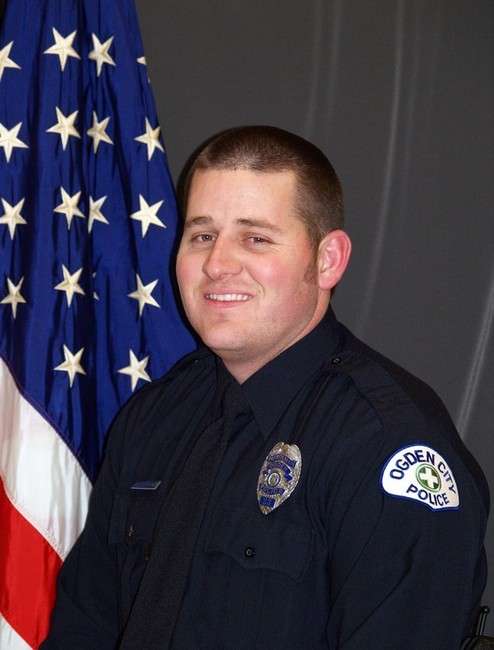 Being a police officer was something Francom wanted to do since he was a young boy. Many talked about his "incredible work ethic."
"He wouldn't quit until the job was done," said brother Ben Francom.
Officer Troy Burnett, a member of the strike force, recalled his first experience with Francom. The two were to meet for a domestic violence call. Francom hit black ice and severely damaged his police car on the way to meet Burnett. But even with the hood bent and a wheel "barely hanging on," Francom arrived on time as backup.
"Jared said, 'Sarge, when I heard your arrival on scene, I just couldn't stand the thought of you waiting for me.' That's who Jared was. He'd never let an officer down," Burnett said.
Ogden police officer Shane Keyes recalled the first time Francom took a night off from work. He said Francom constantly sent him text messages that night wondering if anything was happening and asking if he should be anywhere to help.
Keyes was one of many who also spoke of Francom's devotion to his family. He recalled how every night, even when the strike force was out, he'd call to check up on "his girls."
LDS Bishop Troy Combs fought back tears as he spoke Wednesday. As much as others said he loved his job, Combs said Francom's biggest love was for his wife and children.
"There was nothing more that meant anything else in this world than his family," he said. "Every time I talked to him, he talked about Erin, and he talked about Samantha and Hailey.
Bishop Combs recalled how Francom was his daughter's LDS primary teacher. With Francom's long hair, he said it was like she was being taught by Jesus.
"Death comes to us all eventually. That's the one thing we can't avoid in this life. It's tragic the way some deaths occur. Jared's was a tragic death. He was murdered in the line of duty. But he did it serving and protecting," Bishop Combs said.
He shared a story from Tuesday night's viewing in which he was speaking to Francom's grandmother and told her there would be times when she would feel her grandson's presence. She said she already had experienced that.
"She heard as clear as day, 'Hey Gram, it will be all right, and I will be waiting for you,'" the bishop said.
Francom's casket, draped with an American flag, was wheeled into the ceremony by six uniformed officers of the Weber-Morgan Narcotics Strike Force.
His wife carried one of their daughters into the arena, with pink ribbons in her hair, and another woman carried the other daughter.
Community comes together in grand show of support
Gov. Gary Herbert attended the ceremony as well as Sen. Mike Lee, Rep. Rob Bishop, members of the U.S. Attorney's Office, and several sheriffs and police chiefs including Kane County Sheriff Lamont Smith and Salt Lake County Sheriff Jim Winder.
"There are no words to describe what my family and I have felt over the last seven days," brother Travis Francom said of the support his family had received.
Officers from across Utah and the western United States began arriving at the Dee Events Center as early as 7 a.m. Members of local Boy Scout troops were up just as early setting up thousands of American flags along the procession route.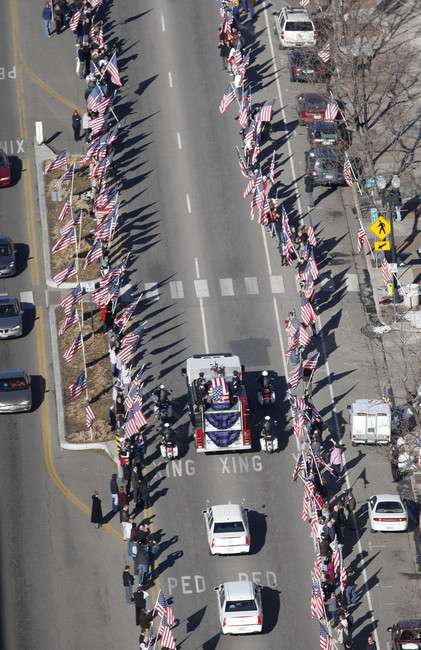 Interim Ogden Police Chief Wayne Tarwater said it was an overwhelming show of support.
"It's a start to healing," he said before the ceremony. "My primary emotions are with officer Francom and his family."
Ogden Mayor Mike Caldwell called it a "tough day" for Ogden, one that hasn't been seen in almost five decades.
"It's a sad day. It's been an amazingly emotional week for everyone involved. This is hopefully a good way to show these families and the law enforcement community just how much we appreciate the sacrifices they make and what they go through," he said.
Caldwell said he wiped away tears as he drove to the funeral just seeing the Scouts who were setting up flags.
"Unfortunately, sometimes it takes a tragic event to recognize what kind of sacrifice (police make) and what they go through on a day-to-day basis, and I think this community has really come out to show they appreciate it," he said. "People were frustrated with not knowing what to do. ... People really wanted to put their hands in and do something tangible, not just change a Facebook picture or whatever. It's been amazing."
Flags across the state were ordered to fly at half-staff in Francom's honor.
A funeral procession was traveling from the Dee Events Center to the Ogden City Cemetery where the interment will take place. Francom's casket was carried on the back of an Ogden City Fire Department engine, which was draped in black. Francom will be buried with full honors including a 21-gun salute, an aircraft flyover, and "final 10-42" call over the police radio signifying an end of watch.
An estimated 400 to 500 police vehicles, including dozens of motorcycle officers, were part of the procession. Thousands of U.S. flags lined the procession route. Residents also placed blue ribbons around the city in honor of Francom.
Francom is the 134th officer killed in the line of duty in Utah history and the 75th by homicide. The last Ogden police officer who died in the line of duty was Marshall "Doc" White in 1963.
Email:preavy@ksl.com
×
Photos
Related stories
Most recent Utah stories