Estimated read time: 2-3 minutes
This archived news story is available only for your personal, non-commercial use. Information in the story may be outdated or superseded by additional information. Reading or replaying the story in its archived form does not constitute a republication of the story.
SARATOGA SPRINGS -- A Ghana man is only weeks away from fulfilling a life-long dream of qualifying for the 2012 Olympic Games in London. But he had to make a detour to Utah to help him do it.
David Adjetey has been training hard to qualify for the Olympic sport he is so passionate about - Tae Kwon Do. Adjetey came to Utah four years ago from his native Ghana for two reasons: The advanced facilities and advanced training. Now, he's closer to his Olympic dream than ever before.
Tae Kwon Do has been part of Adjetey's life since he was six years old. At first, it was something that his parents discouraged. They wanted him to find another sport.
"The big sport in Ghana is soccer," Adjetey said. "That's the nation's passion."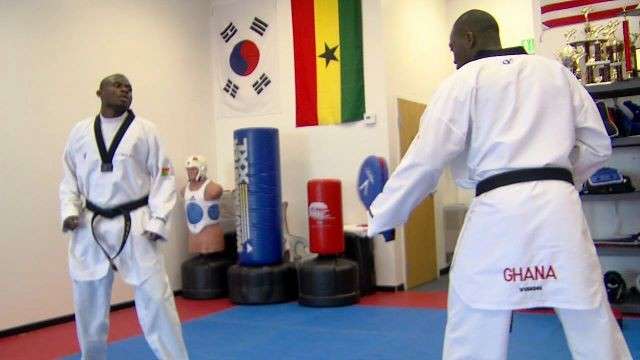 But Adjetey stuck with Tae Kwon Do. He was good - so good he began winning national and then then international championships. Now, he has Olympic gold on is mind.
"I am strong and I know when I go there I will do all it takes to qualify and make it to London in 2012," he said.
To qualify, Adjetey must compete in the African Tae Kwon Do Tournament in Cairo, his last hurdle before qualifying for the Summer Olympic Games.
"He's got what it takes to make the Olympics," said Ghana's Tae Kwon Do National Team Coach Augustine Torkornoo. "He's really strong and focused right now, and I think - I know, I don't think - he's going to make it."
Adjetey has been training with his coach here at the International Martial Arts Academy in Saratoga Springs. He spends between four to six hours a day doing it. And that's on top of working and helping to care for Annabelle, his 18-month-old daughter. Not to mention being a good husband to his wife.
"He definitely tries to come home and spend time with us whenever he can," said Shana Adjetey, his wife.
But right now, all of his focus is pinned on his Olympic dream, or what is now their Olympic dream.
"I dream about it all the time," Shana said. "I think about dressing (my daughter) up in her Ghana flag outfits. It's really exciting and a cool thing."
But before they can break out the Ghana outfits, he has to qualify.
"It would mean a lot to me to my family, my friends - especially my wife," Adjetey said.
Email: lprichard@ksl.com
×
Photos
Related links
Most recent Utah stories