This archived news story is available only for your personal, non-commercial use. Information in the story may be outdated or superseded by additional information. Reading or replaying the story in its archived form does not constitute a republication of the story.
SALT LAKE CITY — As the temperature started to tumble Wednesday night, a Salt Lake community came together for a warm Christmas tradition. Fittingly, it's a tradition that's grown way beyond its original dream.
"People can have an experience that reminds them of the real meaning of Christmas," said Doran Taylor, event chair for the Nativity in the Glen.
In the Yalecrest neighborhood, on the east bench of Salt Lake City, they go for the real Christmas story, and thousands of people travel for miles to experience it.
---
It brings back the spiritual element that is the basis of Christmas.
–Jenny Asay, coordinator
---
"It brings back the spiritual element that is the basis of Christmas," said Jenny Asay, cast and costume coordinator. "It's been going on for about eight years now."
The live nativity keeps adding new elements every year. Last year, 5,000 people showed up. This year, everyone we asked said the crowd was even larger.
"The past couple of years, we've had people coming from St. George, from Heber City, from Logan, from Vernal," Asay said.
She can't really explain why it's become so popular, other than to say everyone who comes is looking for something: fellowship, a spiritual connection, and new friends.
"This is the best part of Christmas," said Gena Alder, who lives in the neighborhood. "This is why we celebrate."
There's a manger, of course, 30 live animals, and 90 cast members.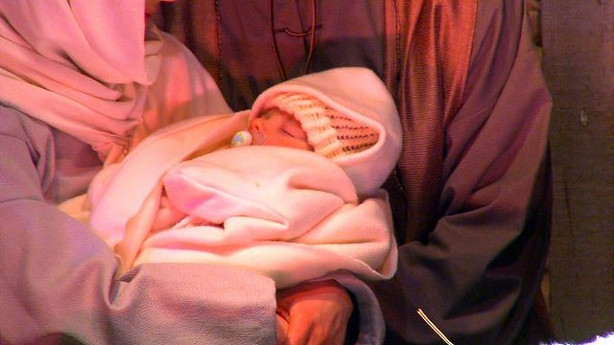 "I would like for them to feel in their hearts what Christmas is really about," Taylor said.
Mary and Joseph even watch over a live baby Jesus, bundled up in the warmest of swaddling clothes.
"They have a real live baby for baby Jesus, and a live cast, and you really feel like you're stepping back in time," said visitor Anne Titera. "It's just a special experience."
That's why many families now make this nativity part of their Christmas. Ruby Alder was enjoying the pageant with her mother.
"You can see what it's about," Ruby said. "It makes you remember everything about Christmas."
Neighbors work on the nativity for months. It's sponsored by the First Baptist Church, Wasatch Presbyterian Church, Our Lady of Lourdes Parish Churches, and The Church of Jesus Christ of Latter-day Saints.
It's only a one-night event; so if you want to catch it, you'll have to put it on your calendar next year.
"I certainly feel it's fulfilling a need for many people," Alder said.
Email: jboal@ksl.com
×
Photos
Related Links