Estimated read time: 3-4 minutes
This archived news story is available only for your personal, non-commercial use. Information in the story may be outdated or superseded by additional information. Reading or replaying the story in its archived form does not constitute a republication of the story.
SALT LAKE CITY -- Seventy years ago, Keith "Monty" Montague was the senior class president at the University of Utah, editor of the yearbook and an art major. Then came the attacks on Pearl Harbor, and everything changed.
Monty spent the next four years in the Navy touring the South Pacific -- and each year is brought vividly to life through the words and pictures he put on paper.
His creation is an illustrated journal, a memoir and a very personal pictorial account of his war years.
"I decided that, first of all, I was just going to make some sketches, just to sketch," Monty said. "But I made a couple and then I thought, 'I might as well put it all together in a book form,' and so that's what I did."
Monty foresaw the question he'd be asked by another generation: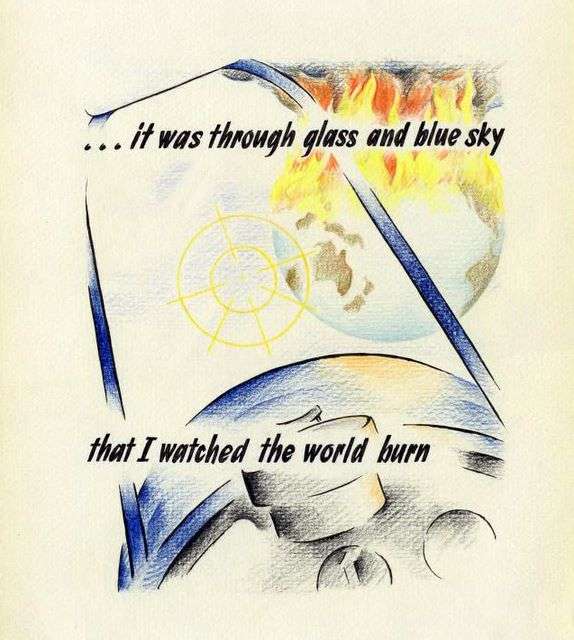 "Hey, Pop. What did you do in the war, anyway?"
And he prepared his answer:
"It was through glass and blue sky that I watched the world burn."
Those war years began when Monty was sent to flight school in Texas, where he became an instructor and where he mastered the Grumman F6F -- the Hellcat fighter bomber.
With him on every flight, inside the navigation chart strapped to his leg, was a precious keepsake:
"It's a picture of my wife, Elizabeth," Monty said with pride. "Pretty, huh?"
Monty and Elizabeth married while he was in flight school and spent more than a year together in Texas. When he shipped out, he began his sketching and dedicated the collection to her.
In meticulously lettered prose and evocative sketches, Monty chronicled his voyage to Hawaii in a crowded lower deck, their arrival at Pearl Harbor to a brass band welcome, and flying his Hellcat over impossibly green islands to Maui the next morning where, with his squadron, he trained for carrier landings in sight of the summit of Mt. Haleakela, above the clouds.
As a lieutenant, Monty chronicled the down-time on tropical Maui: the good, clean and other sorts of fun that beckoned -- and his own, more contemplative pursuits.
In 1945 his Air Group 87 was assigned to the carrier Ticonderoga, headed for Japan. On the carrier, Monty persuaded a machinist mate to make the cover for his growing book. Though the war was winding down, it was right near the time he entered combat.
"It was kind of thrilling," Monty said.
Related
Monty flew missions over Imperial Japan in the closing days of the war.
"The drawings are all made pretty much from my view of the cockpit of my plane," he said.
His squadron was assigned military targets where the enemy did fire back. As they made a low-level run near the coast, the skipper was shot down and drowned. Monty has a memento from that experience as well.
"This is his parachute, the skipper's parachute."
Monty's Air Group 87 dropped the last bombs to hit Japan. Within a few months he was headed home carrying a rare volume that captured a personal story of war -- a volume that became a bridge back to civilian life and career.
Monty's dream was to break into the advertising business as an illustrator. He showed this collection to Salt Lake agencies as his portfolio, and it landed him his first job.
------
Story by Bruce Lindsay with contributions from Lindsay Maxfield.
×
Photos
Related stories
Most recent Utah stories