Estimated read time: 3-4 minutes
This archived news story is available only for your personal, non-commercial use. Information in the story may be outdated or superseded by additional information. Reading or replaying the story in its archived form does not constitute a republication of the story.
SALT LAKE CITY — Attorneys on both sides of the case of Esar Met — a refugee from Myanmar charged with kidnapping and murdering a 7-year-old girl — walked into court Wednesday thinking they, and Met, were on board with a plan to move forward.
"We are prepared to waive our right to a preliminary hearing and, once we've done that, schedule an arraignment and request a bench trial," defense attorney Denise Porter told 3rd District Judge Judith Atherton.
But it wasn't long after Met entered the courtroom — his hair reaching down his back, a patch of hair coming from the chin on his thin face, his attorney taking pains to run everything through an interpreter — that the plan went out the window. First, the man interjected.
"I want to go to trial," he said through an interpreter. "I didn't commit a crime."
Porter went to clarify that Met understood that he would get a trial, but that he would skip the preliminary hearing, which she called the "middle hearing."
"He said he wants the middle hearing," the interpreter said in response.
Porter asked Met, 24, to take a break from the proceedings so they could talk in private. Close to an hour later, they returned.
"We've had a lengthy conversation with Esar and it appears Esar's desires have changed," she said.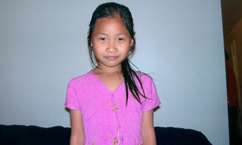 Met, instead, wanted a preliminary hearing, in which prosecutors present the evidence they have to support the charges, and a jury trial later. Porter made sure Met understood that the decision to have a preliminary hearing meant that the death penalty was back on the table. Prosecutors had agreed not to pursue the death penalty if Met waived his right to a preliminary hearing and proceeded to a bench trial.
"I would like to see the witnesses twice," Met said through his interpreter.
But when defense attorneys went to schedule the preliminary hearing, it was the prosecutor — Rob Parrish — who interjected and said he had "significant concerns" about Met's competency and understanding. He indicated he may request a complete, formal competency evaluation.
Met is charged with capital murder and child kidnapping, first-degree felonies, in the 2008 death of 7-year-old Hser Ner Moo. The girl apparently walked away from her South Salt Lake apartment on March 31 of that year. Her body was found the next day in the bathroom of Met's basement apartment. Authorities believe the child was raped, strangled and beaten to death the afternoon that she disappeared.
Met's struggles to understand the court process, which is foreign to him and entirely conducted through an interpreter, have been a large part of the delay that has kept the case from getting to a preliminary hearing, much less a trial, in more than three and a half years.
Earlier plea negotiations apparently stalled when Met expressed his concerns over pleading guilty, due to cultural misunderstandings. Attorneys have said Met is under the impression that if he were to plead, he would be "summarily dealt with."
The judge told attorneys to determine how they want to proceed. A status conference was scheduled for Jan. 20.
Email:emorgan@ksl.com
×
Photos
Related links
Most recent Utah stories