This archived news story is available only for your personal, non-commercial use. Information in the story may be outdated or superseded by additional information. Reading or replaying the story in its archived form does not constitute a republication of the story.
CENTERVILLE — The wife of a man accused of shooting his neighbor because he thought the neighbor was "telepathically" raping her, has now been charged with encouraging her husband to "go for it."
Meloney Toone Selleneit, who turns 54 next week, was charged Tuesday in 2nd District Court with criminal solicitation, a first-degree felony, and purchase, transfer, use or possession of a firearm by a restricted person, a second-degree felony.
On Oct. 30, police say Michael Selleneit took a handgun that he kept under his pillow, walked over to his neighbor's trailer and shot Tony Pierce, 41, multiple times as the man was working in his yard.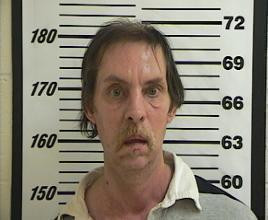 Pierce, after a couple of stays at Intermountain Medical Center, is currently recovering at home, according to police.
When Selleneit was arrested, he told police he shot Pierce in self-defense and intended to kill him, claiming Pierce had been "telepathically threatening he and his wife" and had telepathically raped his wife. It was a claim that Selleneit had been making for years.
Selleneit was also restricted from possessing a firearm because of a 1990 sex conviction involving a child. He pleaded guilty but mentally ill to an amended charge of attempted sexual abuse of a child. He was given a suspended prison sentence and was sent to the Utah State Hospital.
In an arrest warrant signed Monday for Meloney Selleneit, prosecutors contend that Meloney purchased a handgun for her husband about 10 years ago because he "could not purchase the gun himself because of his conviction for a violent felony."
Meloney Selleneit also allegedly had a discussion with her husband on the day Pierce was shot.
"She told Mr. Selleneit to 'go ahead' and shoot Mr. Pierce," according to the arrest warrant. "Defendant also admitted that immediately before the shooting, as Mr. Selleneit stood at the door of his trailer preparing to shoot Mr. Pierce, defendant told Mr. Selleneit to 'go for it.'"
Meloney Selleneit said she was "unsure" if her husband would have gone through with the shooting without her encouragement, the charges state.
Michael Selleneit was charged with attempted murder, a first-degree felony, and possession of a weapon by a restricted person, a second-degree felony. He was scheduled to undergo a competency examination. An arraignment is scheduled for Jan. 26.
Email:preavy@ksl.com
×
Photos
Related Stories