Estimated read time: 5-6 minutes
This archived news story is available only for your personal, non-commercial use. Information in the story may be outdated or superseded by additional information. Reading or replaying the story in its archived form does not constitute a republication of the story.
Dick Nourse Reporting Former Gov. Calvin L. Rampton has died following a brief illness.
The former governor had been in failing health for several months. He died from "system failure," said son Tony Rampton. "It was not cancer," he said. "He was having difficulty swallowing and breathing, and ultimately I think his organs shut down."
Rampton, the man known as "The Gov," was Utah's only three-term governor. He was a popular and widely respected political leader around the state and across the country.
He was a quiet, dynamic man, a down-to-earth intellectual who connected easily with powerful people and with ordinary people.
"He was a successful attorney, well trained, highly articulate. But he could also talk to ordinary folks in ways that were not at all condescending, that they related well to," said Dr. David Magleby, dean of social sciences at BYU.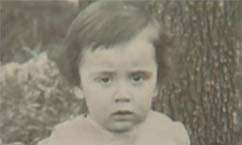 Cal Rampton was born in Bountiful, graduated from Davis High School and the University of Utah. While studying for his law degree at George Washington University, he married the love of his life, Lucybeth Cardon.
Dr. Robert Huefner of the political science department at the University of Utah said, "I think it's fair to say that you can't really talk about his accomplishments as governor without talking about them as a pair."
Cal and Lucybeth Rampton were partners in marriage, parenthood and in public service. Their marriage lasted 64 years, until her death in 2004.
"He was the governor that modernized state government both financially and organizationally," said Magleby.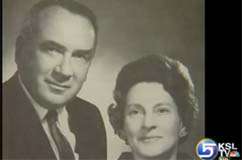 Rampton was the first 'modern' governor. He streamlined state government, aggressively marketed the state to create jobs and go after the Winter Olympics.
Magleby said, "Every governor since Rampton should be very grateful to Cal Rampton because Utah state government is much more manageable today than it was when he became governor in 1964."
Republican Governor Norm Bangerter served as House speaker during the Rampton administration. He said, "I think Cal Rampton was a major catalyst in helping establish Utah as an economic factor."
During his administration the state made significant investments in public education at all levels. For more than 40 years Utah's public universities and colleges have benefited from Rampton's vision.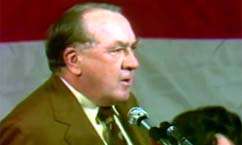 Magleby said, "Rampton led, and got the legislature to agree, to pass a substantial bond which built many buildings at Weber State, Utah State, the University of Utah. I think every public institution in Utah built buildings in that 1960s, late 1970s period that are still in use today."
Huefner said, "Well, our universities would not be near what they are today if it hadn't been for that investment in the campuses in those times."
"That model of hands-on governance was very much Cal Rampton, and I think it's, again, why people across all ideological, partisan and religious divides found him to be a governor they could support and vote for," Magleby explained.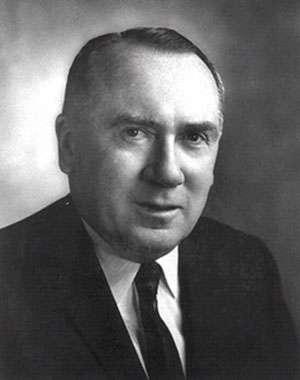 He was steady, not flashy; a blazing intellect wrapped in a down-to-earth personal style. "I think he also won because he could evoke a charisma and a personality that Utahns related well to," Magleby said.
He loved being the governor of Utah, whether it was personally inspecting the scene of a natural disaster or attending to more routine matters. "You know, he worked hard to understand the people in Utah and understand what they wanted and what they needed," said Huefner.
The idea of seeking the Winter Olympics began under Rampton's leadership. It was part of his aggressive and innovative approach.
Magleby said, "He was very proactive with economic development in ways that governors now routinely are. But no governor in Utah history had done what he did, or what he started with what he called, 'Rampton's Raiders.' And it was a coalition of business and community leaders that represented his ability to build coalitions, including the LDS Church [and] the non-LDS Salt Lake City business community."
Gov. Jon Huntsman says Rampton was an inspiration. Huntsman says he constantly refers to Rampton's book "As I Recall." He says things have not changed a lot over the years. He said, "How one's approach as governor, leadership, and bringing people together really don't change either, and he was a master at that."
Huntsman issued the following statement regarding the passing of former Gov. Calvin L. Rampton: "Governor Rampton set the benchmark for modern-day governors. His leadership and service brought enormous success and pride to the people of Utah. We all are beneficiaries of his legacy. Mary Kaye and I express our heartfelt condolences to the Rampton family. The entire State of Utah joins them in mourning the loss of one of the finest public servants we have ever known."
The governor authorized flags to be lowered in honor of Rampton. The flags will be flown at half-staff on all state-owned facilities immediately until sunset on the day of interment.
In a 1977 interview with the Ramptons, Mrs. Rampton recalled what her husband did when it sunk in that the voters had elected him Governor of Utah. "All of a sudden he said, 'What if I let them all down?' I realized that it had just struck him that here he was, elected, and he was going to have to be the governor and do the job. And he sat there, perfectly still for about 30 minutes, thinking the thing through. Then he just stood up and said, 'But I won't.' And he never has."
In what would turn out to be Rampton's last broadcast interview two months ago, KSL News asked him if he would do it all the same way if he had a chance to go back and do it all over again. "Pretty much, pretty much yeah; I've lived a good life. I've enjoyed it and I haven't had too much illness. This recent illness has got me down, but it doesn't have me in pain. I think I've had a good life."
Tony said his father died peacefully at a hospice in Holladay, surrounded by family members.
A memorial service for Rampton will be held on Friday at 11 a.m. It will be at the Parley's Stake Center on 1870 East Parley's Canyon Blvd. The public is invited.
Rampton was 93 years old. He is survived by three children and 14 grandchildren.
(The Associated Press contributed to this article.)
×
Related links
Most recent Utah stories