Estimated read time: 2-3 minutes
This archived news story is available only for your personal, non-commercial use. Information in the story may be outdated or superseded by additional information. Reading or replaying the story in its archived form does not constitute a republication of the story.
Alex Cabrero ReportingThere's something about a good yard sale that seems to draw lots of people; and if you're on the yard sale circuit, you should have been at Whittier Elementary in Salt Lake City today.
Clothes, books, furniture, toys -- it was enough to make Wal-Mart jealous. And it was big, stretching from one end of the school to the other. But what this yard sale was for is even bigger.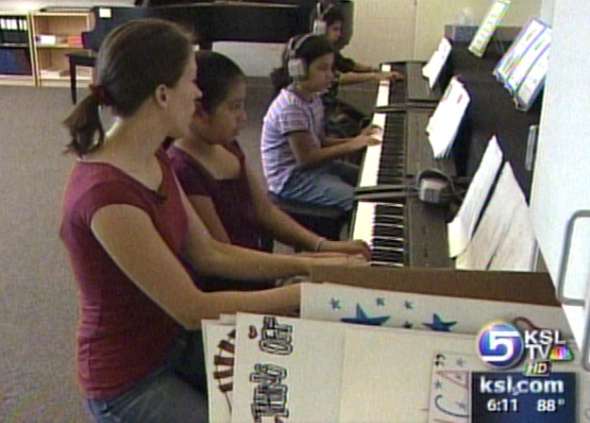 There's a little bit of everything at a good yard sale: things for kids and things for adults. This yard sale seemed to have it all: from toys and children's books, to clothes and more toys.
Even the school's principal got into it. But for all the fun everyone was having the yard sale was for one thing and one thing only.
In recent years, Whittier's music program has been hit with severe budget cuts. To keep it going, the school has to raise $20,000.
Colette Call, one of Whittier's music teachers, says, "I know that funding is always an issue, but we just feel like it's such an important part of the school day."
At Whittier, all students learn to play the piano.
Call says, "I guess it's just kind of great to be well-rounded."
But without fund raiser like the big yard sale, piano class would be gone, and students like sixth grader Joseph Cruz would miss it.
"Because it's really fun, and I made a lot of friends doing it," Cruz said.
So while everything was going on outside, inside, students just wanted to play piano, because they're not sure how much longer they'll be able to.
"It would be great to know we were going to be here without having to worry about it," Call said.
The program is part of the Youth Enrichment Foundation. The $20,000 the school needs will match a grant, but the school must come up with its share first. That $20,000 will go toward teacher salaries, music equipment and music supplies.
×
Most recent Utah stories