Estimated read time: 3-4 minutes
This archived news story is available only for your personal, non-commercial use. Information in the story may be outdated or superseded by additional information. Reading or replaying the story in its archived form does not constitute a republication of the story.
OGDEN — Four young rattlesnakes found in the span of a week in a building at Weber State University have officials scaling back operations until it's deemed safe for workers to return.
The Receiving and Distribution Center — east of Skyline Drive in the foothills of Ogden — houses printing operations and mail services and is not frequented by students, said campus spokesman John Kowalewski.
Still, workers who stumbled upon the young rattlers last week are unnerved and questioning if more of the reptiles may have found their way inside the building.
"At first I thought it was a fake," said mail center employee Brad Colby, describing his Oct. 24 encounter with one. "Then it moved and I was dumbfounded."
#poll
The foot-long snake was on a landing at the top of the stairs in the building, which had some doors propped open because of the unseasonably warm daytime temperatures last week, he said.
Colby said he thought it may have been a garter snake, but when it coiled up in a corner, a co-worker told him it was a rattler.
"I just hate snakes," he said. "I didn't care what it was."
Colby's discovery was the second of its type, with two more snakes found in the days to follow.
Kowalewski said three of the snakes were safely captured and removed, while a fourth was killed.
A reptile expert was on campus Wednesday afternoon to determine if any more snakes remain and to assist campus officials in preventing a possible return.
"What we have discovered quickly is that we are not experts on reptiles or rattlesnakes," Kowalewski said.
Mail service employees were sent home early Wednesday and only a few printing press operators remain to finish up a job. Weber State, he added, will wait for the all-clear before employees return.
"First and foremost we are concerned about the safety and health of our employees in that building," he said.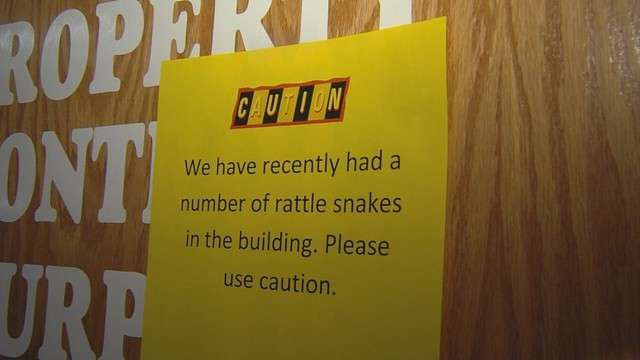 Arlo Wing, a wildlife specialist with the state Division of Wildlife Reources, points out that rattlesnakes are a protected and misunderstood species and if all possible, appropriate agencies should be contacted for a safe removal.
"They do a lot of good for the environment," he said. "We do recognize there can be conflicts with public safety, but their benefits outweigh a lot of the negative connotations that many people have about them."
It's likely that changing temperatures are among the factors contributing to the rattlesnake issue on campus, added another division employee.
"It's not surprising to me at all that there would be rattlesnakes there," said Phil Douglass, pointing to the building's location next to the mountains. "You get them even further down in town."
Douglass, the state's conservation outreach manager, said they may also be looking for a suitable place to bunk down for the winter.
Once snakes pick a place, they can be hard tenants to evict, he said.
"Telling a snake where to go is a little bit like sweeping the tide back with a broom," Douglass said. "They are going to be where they are going to be."
Colby objects to sharing his work space.
"I am keeping my distance. I don't need that kind of stuff."
Douglass said that kind of caution is healthy.
"It pays for us to be aware of wildlife, be it a moose or rattlesnake," he said. "We do live in a wild place, and most of the time, that is a really pleasant thing."
Email:aodonoghue@ksl.com
×
Photos
Related stories
Most recent Utah stories