Estimated read time: 3-4 minutes
This archived news story is available only for your personal, non-commercial use. Information in the story may be outdated or superseded by additional information. Reading or replaying the story in its archived form does not constitute a republication of the story.
SOUTH JORDAN -- Life changed in an instant for a Riverton teen who was paralyzed in a freak accident in May.
"Not a very fun summer," says 14-year-old Kendra Muller with a wry smile.
Now, Kendra is confined to a wheelchair, but inspiring her friends with her energy and attitude. KSL caught up with her yesterday at a benefit bash at Buster Burger in South Jordan.
"She's always be a positive, happy kid," says her mother, Amy Muller.
But, getting around is a lot more complicated today for Kendra. Her mom has to carry her from the van to the wheelchair while they save enough money to buy a wheelchair lift.
But, Kendra's friends and community came together Thursday night to eat sizzling burgers, show off their Halloween costumes, and raise $2000. That's about two- thirds of the cost of the wheelchair lift.
"I think this is amazing what they're doing," says Kendra.
Five months ago, a day after her birthday, Kendra and four of her friends piled onto a hammock at a pool party. The brick column holding the hammock collapsed on top of her.
"All of my other friends were able to roll out," she says. "But, I was stuck between two friends, and I guess, the pillar fell on me."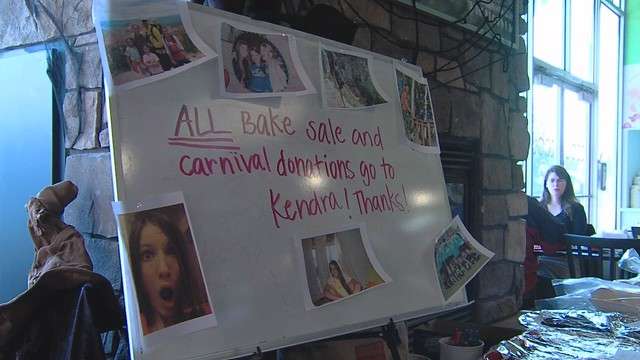 Kendra broke her spine, ribs, neck, collar bone, and shoulder blades. She spent the summer at Primary Children's Medical Center. The first part of her stay she couldn't talk, and was on a ventilator. As the weeks went by and she began therapy, she started to improve.
She's a quadriplegic, but takes on life with courage. She's paralyzed from the chest down. Kendra can use her arms to hug her friends, but has no fine motor skills in her hands and fingers. Yet, her friends get strength from her.
"It's kind of inspiring to me to see how well she's handled it, and how she's not so depressed," says her friend, Madison Boyce. "I know if it was me, I'd be dying, and don't know if I'd be able to make it through. But, she's uplifting."
Kendra is back home, and back at school this fall. Before the accident, she was a runner and soccer player. Today, she's as active as she can be with her friends.
"She seems really happy about everything, even though I'm sure it's really, really hard for her not to be able to run and do sports," says her friend Kalyssa Barnes.
"I think that's the key to my success, and getting out of Primary Children's (Hospital), is just to keep a good attitude," said Kendra.
But, she admits, it's not always easy to stay upbeat. She misses being able to run around with her friends.
"Especially that part is tough, because I always was active, running around doing stuff, either cross-country or soccer, and it's just hard."
Her friends say the accident brought them all closer together. It's a bond brought on by a shared desire to rise above the struggle.
"It just shows how much we love Kendra," says Kalyssa.
Kendra goes to therapy several times a week, and says she feels great about her progress.
An *account has been set up for people to donate to the family at Bank of American Fork under the name Kendra Muller.
Email: [jboal@ksl.com](<mailto: jboal@ksl.com>)
----
*KSL.com has not verified the accuracy of the information provided with respect to the account nor does KSL.com assure that the monies deposited to the account will be applied for the benefit of the persons named as beneficiaries. If you are considering a deposit to the account you should consult your own advisors and otherwise proceed at your own risk.
×
Photos
Related links
Most recent Utah stories