Estimated read time: 2-3 minutes
This archived news story is available only for your personal, non-commercial use. Information in the story may be outdated or superseded by additional information. Reading or replaying the story in its archived form does not constitute a republication of the story.
Richard Piatt ReportingA virtual three-way dead heat: That's the bottom line of a poll of the Salt Lake City mayor's race.
Dan Jones just finished the survey for KSL and the Deseret Morning News. It shows which candidates might survive next week's primary election.
Since January, there have been so many debates and forums that the candidates have lost count. In the race for Salt Lake City mayor, the four top candidates are working for next week's primary, not the November election yet.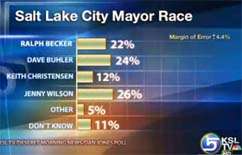 And as of right now, it's a close contest, according to the new Dan Jones poll.
Jenny Wilson, Dave Buhler and Ralph Becker are the top three. All are within the 4.4 percent margin of error. That means candidates have to get their supporters to the polls Tuesday.
Pollster Dan Jones said, "It is a three-way dead heat. It could go either way. It comes down to who gets their people out to vote."
Wilson, Buhler and Becker all seem encouraged, but are cautious about being excited at the results. After all, only two candidates will continue into November.
Ralph Becker said, "We have been feeling this momentum coming to us in this campaign over the last couple of weeks, getting stronger and stronger."
Jenny Wilson said, "I really feel like we've had the right message and a good focus in our field operations, which is important at this stage."
Dave Buhler told us, "It's going to be a close race, and every vote counts. People who want to change the tone in Salt Lake City need to get out and vote, and hopefully they will on Tuesday."
With 12 percent support, the poll results are a disappointment to candidate Keith Christensen, who is hoping for a last minute surge of support.
He said, "We're going to stay on track with everything we've planned. I will say this: Polls don't vote, people do."
Tuesday a field of nine candidates will become two. It's been hard-fought and expensive so far, but the best is yet to come.
This weekend, the Deseret Morning News will have more on the mayor's race, including analysis on when and how strongly voters are supporting their favorite candidate.
×
Related links
Most recent Utah stories